Longtime teacher takes the administrative reins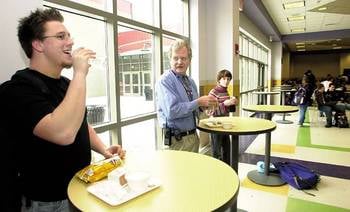 NASHUA – Standing in the main atrium of the revitalized Nashua High School South building last Friday morning, Principal Tim Kelley greeted students as they shuffled by to their destinations.
"This is my favorite part of the building," Kelley said with a smile.
As the main entrance to the building, it is the one area that nearly all of the school's 2,200 students pass through. There's always something going on there, the reason Kelley gets such a kick out of it. Fortunately for him, his office is only about 20 feet away.
This is Kelley's first position as a principal, so he knew it would be a challenge. With the dust still settling from the district's largest transition in its history, there was a level of uncertainty coming into the school year. The district shifted ninth-graders to the high school level and sixth-graders to the middle schools, along with officially opening Nashua High School North, creating two separate high schools. As a result of all the changes, Kelley said three-quarters of Nashua South's students, staff and administrators are new to one another.
But to top it all off, Kelley was offered the job on an interim basis only weeks before school began in September. Former Principal Richard Burpee announced his retirement in August, and the district needed someone to step in. Superintendent Joseph Giuliano said the search for a permanent replacement was a quick and easy one. In late September, the Board of Education voted to hire Kelley for the spot, removing the interim title.
"If anyone had a good grasp of what was going on at South, it was Tim. And he's doing an excellent job for us," Giuliano said.
Kelley strolled through the building last week, highlighting many of the new programs available to all of the city's high school students. He stood inside the state-of-the-art planetarium and a brand-new TV studio, weeks away from completion.
During the tour, he showed off another of his favorite spots in the building, a point at which two hallways provide an uninterrupted view from one end of the building to the other.
It's an obvious choice for Kelley, who makes a point of spending time walking through the building talking to students about where they're headed, how they're doing and what's going on in their lives. And he takes the same approach when dealing with his staff.
"He's a great listener and a great communicator," said Deborah Migneault, an assistant principal at the school.
"Personally, that's something I wasn't used to. He keeps us informed, he solicits opinions and reaches a consensus. This year, he's had really good insight on how and why we do things. It's a very collegial atmosphere."
After a three-year stint in Amherst, Kelley has spent his entire teaching career in Nashua, arriving in the late 1970s. He taught math and computer science before taking his first administrative position as dean of academic affairs in 2001. Three years later, he finds himself at the helm of one of the largest high schools in the state.
"I knew it was a once-in-a-lifetime opportunity," he said.
But of making the transition from teaching to administration, Kelley said, "It was tough. I spent the majority of my life as a teacher."
It was a decision he made based on advice he had been given by previous administrators he had worked under, including Burpee and Patrick Corbin, now the principal of Nashua North. Kelley had always been told that taking on an administrative role means having a positive effect on a larger number of kids. So far, that advice has rung true, Kelley said.
Giuliano said it was Kelley's personality that made him stand out for the job.
"He's a people person. When you go out to the school, he's always out in the halls and in the classrooms. We're fortunate to have someone like Tim," he said.
While Kelley is pleased with the way things have gone this year, he repeatedly gave credit to his staff. A transition as large as this can be frustrating, but he said the teachers have been exceptional.
"The effect you have on kids (as an administrator) can be really rewarding. But the teachers are doing the most important job in this building," he said.
While working under Burpee and Corbin, Kelley watched them and then used that experience as a guide for how to enter his first year.
He said one of his goals for the year was to make everyone comfortable at the school, all the way from freshmen to seniors. For some seniors, this is their first and only year at the school, and he understands that can be a difficult way to end their high school careers.
Although the year is far from over, Giuliano said the transition of splitting the two schools has been smooth. And while Kelley acknowledges that things have gone well, there have been problems he has had to deal with. But he gladly accepts them as part of his new job.
"I suppose it was smooth, but I wouldn't describe my job so far as smooth," he said with a laugh.