Long-awaited return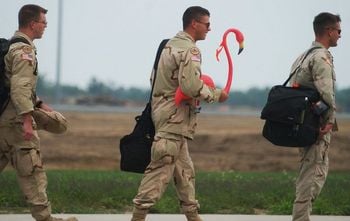 Football season hasn't started, but the families of the 94th Military Police Company had every reason to yell "touchdown."
A plane carrying the 150-plus members of the Londonderry-based unit touched down Friday at Fort Drum, N.Y., ending perhaps the longest Army Reserve deployment since the Sept. 11 attacks.
The unit was scheduled to come home several times, only to have its mission extended, and then it experienced another delay this week when its plane experienced mechanical problems in Kuwait.
"She called at 2:30 and said, 'We're celebrating, Ma. I've got a drink in my hand. We're in New York,' " Melrose, Mass., resident Mary Carroll said of her 23-year-old daughter, Sgt. Christine Agnone.
The first call actually came 12 hours earlier, in the early morning hours. Agnone had just arrived in Germany, and wanted to share her itinerary. Nashua resident Anne Landry got one of those a.m. updates from her son, Matthew Landry, a 22-year-old specialist.
"I don't mind those calls," she said.
Deployed in December 2002, the 94th arrived in Iraq in April 2003. The unit almost returned last October, but its tour was extended six months. When the unit was hours away from boarding a plane home in April, military officials extended the deployment for another 120 days.
"He said he can't wait to see green grass," Franklin resident Sharon MacDonald said of her 23-year-old son, Adam MacDonald, a specialist. "He didn't care if he had to mow it."
Matthew Landry can't wait to drive the used car he bought online while in Iraq, his mother said. He'll spin around Nashua in a 2003 Toyota Celica.
The families look forward to a reunion some time next week, after the soldiers spend a few days at Fort Drum adjusting to civilian life and completing paperwork.
Some families complained about the extension, going so far as to meet with Pentagon officials to express concerns about keeping their loved ones in a war zone. They feared fatigue could hamper their duties.
Their complaints illustrated the many tensions resulting from a military stretched thin and depending more on National Guard and reservists. The military defended its decision, arguing the extension was warranted.
"The fact of the matter is, though, that the nation is at war. The Army has a responsibility to respond to that need," said Maj. Gen. Dennis Laich, commander of the 94th Regional Readiness Command in Massachusetts.
The 94th was not alone. The 162-member 439th Quartermaster Company had been serving in Iraq since May 2003 and had its deployment extended, shifting to a base in Kuwait. The New Haven, Conn., unit shared a flight home with the 94th.
"When those families went out and did what they did, I said, 'Just read the orders.' It was there in black and white," Landry said of the unit's orders that called for 12 months of service with the possibility of an extension of up to 12 months.
"There was a possibility of that and unfortunately it happened," she said. "This week was more stressful: We're coming home, no we're not."
The company is trained to keep supply lines secure and other military units safe. The 94th ran convoys, traveling from Kuwait into northern Iraq. It also served in the Sunni Triangle, an area deep with insurgents loyal to Saddam Hussein.
"He was sitting on top of the gunner," Landry said of her son. "He didn't want to sit around and let time go by. Anytime there were convoys, he'd volunteer."
Wayne LeBreton of Townsend, Mass., also celebrated the return of the 94th. His 22-year-old son, Matthew LeBreton, is a specialist in the unit.
"We're extremely relieved and happy beyond belief they made it beyond this 16 months," LeBreton said. "There are no words to express how elated we feel about our boys and girls coming home. They're an elite military police group."
As with several families of the 94th, LeBreton said his son took his unit's extension in stride. His son is proud of the unit's achievements in Iraq, LeBreton said.
"They weren't happy with it; most weren't happy," LeBreton said. "They sucked it up and did what they had to do. It was more difficult for the family members than the troops themselves. They did it with honor."
Christine Agnone initially had difficulty with the extension, her mother said. But she changed her stance after considering history.
"She was like crying hysterically, 'Mom, I want to come home,' " Carroll said. "But maybe four or five days later she said, 'You know what, Mom. The people in World War II stayed to the end. I can stay four more months.' "