Long-awaited Granite Street exit nears completion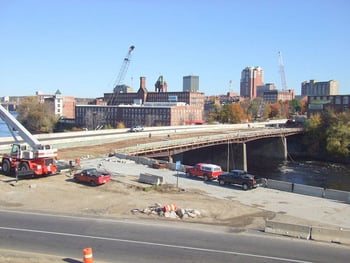 Freedom. Freedom from morning backups on the F.E. Turnpike. Freedom from changing traffic patterns. Freedom from 5 p.m. congestion backing up beyond Canal Street. Freedom to move.
All of this is about the completion of the turnpike's Exit 5 and the Granite Street bridge widening project, which will complete the downtown Manchester entry corridor through Commercial Street.
The project coincides with the completion by the state Department of Transportation of the Exit 5 project, which will finally allow for full north-south entry and exit to the F.E. Everett Turnpike from the central portion of the city. The new operating structures will culminate over 25 years of project improvements allowing access from the turnpike to Manchester's downtown.
What we all will notice at completion is not only the improved traffic flow at the Granite Street exit, but it is also expected that other interchanges with the turnpike, particularly the Amoskeag Interchange, will improve in traffic flow performance. This was certainly the hope and expectation of both the DOT and the city when embarking upon the project.
With all this good news, there is still the final leg to complete between Commercial Street and Elm Street, which should be finished later in 2008. Then things will really start flowing.
Kenneth Rhodes is director of client services at CLD Consulting Engineers Inc., which was the lead engineering firm on the Granite Street project.