Lone bidder lands parcel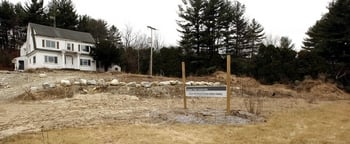 NASHUA – A local firm that held the mortgage on the 12.5-acre parcel at 502 W. Hollis St. where developer John Picard hoped to build a so-called work-force housing complex bought the property Tuesday at a foreclosure auction.
Blackfoot Capital principal Thomas Maddox, the only bidder at the auction, paid $900,000 for the property, the former home of WSMN radio, according to Alex Buchanan, a lawyer who handled the sale.
The sale price was subject to $100,000 in back taxes that Picard owed on the property, Buchanan said.
Picard's company is now under bankruptcy protection. He bought the property from the 1590 Broadcaster Corp., the former owners of WSMN, for $1.5 million in 2005.
David Russell, Maddox's partner at Blackfoot, said the firm will "explore all our options" for the land but will likely team up with a developer to build homes on the property.
Picard received city approval four years ago to build 40 cluster condominiums on the parcel but said he was unable to complete that project because of vast amounts of ledge on the property.
"Right now, the land is permitted for 40 homes so we'll probably move in that direction," Russell said. "We certainly don't want to do anything that will upset the neighborhood."
Neighbors vehemently opposed Picard's plan to build 116 units of work-force housing, saying it would ruin their neighborhood and devalue their homes.
His plan was unanimously rejected by the city zoning board, which said it wasn't depriving Picard of a reasonable use of the land because he could still build the cluster condo project.
Board members disputed Picard's contention that the amount of ledge on the site made it economically impossible to build the cluster condos.
Russell said his company has been involved in the construction of a few small subdivisions in the area and is anxious to get the West Hollis Street parcel developed. "That place definitely needs to be cleaned up," Russell said.