Londonderry woman sustains life-threatening injuries in car crash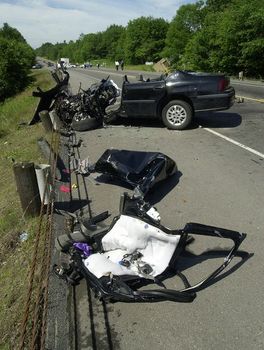 LONDONDERRY – A Londonderry woman was severely injured when the car she was driving crossed into the path of a tractor-trailer on Route 102 Wednesday morning, hitting it head on, police said.
The 58-year-old woman was flown by helicopter to Brigham and Women's Hospital in Boston with life-threatening injuries, Londonderry police Lt. Mark Cagnetta said.
Londonderry police declined to identify the woman, saying her family had not yet been notified.
The woman was unconscious when emergency workers arrived about 8:30 a.m., and rescuers had to extricate her from the Chevrolet Impala she was driving. Cagnetta said the woman was wearing her seatbelt, and the car's airbag deployed.
Cagnetta said the driver of the westbound truck tried to avoid the oncoming car, clipped a guardrail and drove off the road into a broad ditch just east of Parmenter Road.
The truck driver, Kenneth Lamothe, was a subcontractor working for Concrete Systems, police said. The rig was carrying a large, portable metal structure on a flatbed trailer. Lamothe was unhurt.
Debris from the accident littered the roadway across a broad area, and police shut down Route 102, detouring traffic along Old Nashua Road, while they investigated the accident.
Don Himsel can be reached at 594-6590 or himseld@telegraph-nh.com.