Local speller moves on to final day in national bee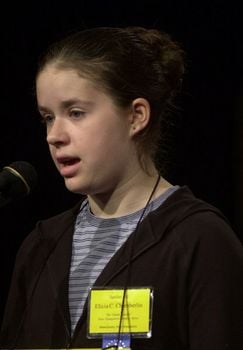 WASHINGTON – One of the two local spellers competing in the Scripps National Spelling Bee has advanced to the final day of the event.
Elicia Chamberlin of Wilton correctly spelled "rabulistic" and "reggae" in the third and fourth rounds of the bee Wednesday afternoon to stay alive.
Elicia, a seventh-grader at Pine Hill Waldorf School in Wilton, is one of 46 spellers remaining in the bee.
Earlier in the day, Sahiti Surapaneni of Nashua was eliminated by a narrow margin.
Both girls successfully spelled their words in the second round of the bee Wednesday morning, but Sahiti's score on Tuesday's 25-word written test left her just shy of the qualifying score to stay in the competition.
"I'm so happy. I was really relieved," Elicia said after learning she had advanced to the third round, when the field was narrowed down from 265 to 94 spellers.
In the second round, Elicia sailed through "tellurian," an adjective that means "of the earth" or "terrestrial." Sahiti had no trouble with "monotocous," an adjective that means "producing only one egg or offspring at a time."
Spellers got three points if they nailed their word onstage in the second round Wednesday morning, and one point for every word they spelled correctly on the 25-word written test that made up the bee's first round Tuesday.
The cutoff score to stay in the competition was 17. Elicia had 24 points, and Sahiti had 16.
Sahiti, a seventh-grader at the Academy of Notre Dame in Tyngsborough, Mass., took her elimination in stride.
"I have next year," she said.
The bee resumes Thursday at 10 a.m., and will be televised on ESPN2 from 10 a.m. to noon and ESPN from 1-4 p.m. Updated results will be posted at www.nashuatelegraph.com and www.spellingbee.com.