Local effort completes farmland preservation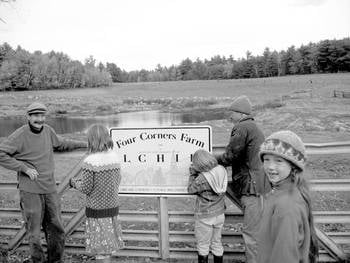 WILTON – It took a long time and a lot of hard work on the part of a lot of people, but on Sunday, about three dozen friends of Four Corners Farm gathered by the new hay barn to celebrate the conservation easement that secures 43 acres of the property as farmland forever. The project also includes a 99-year lease granted to the Wilton-Temple Community Farm, and the opening of a new trail that places 1,000 feet of trail easement into Corridor 13.
The hay barn, still under construction, is the first part of the upgrading of the farm. Completion is expected "before snow flies."
Farm Manager Lincoln Geiger expressed the feelings of many in his opening remarks.
"This is kind of a big occasion," he said. "We worked for several years to save this farm and land, and with a lot of help, we succeeded. It has been a rocky road and a great learning experience. The real beauty of it is, it gets to stay here for the people who come after us."
He noted the state Land and Community Heritage Investment Program, which had provided a grant of $250,000 toward the purchase of the conservation easement from landowner Steven Moheban. Total cost was $550,000.
"Every one of those words (in the grant name) includes a concept," Geiger said. "Land is perceived in so many ways. Nature is given," he added, "like picking up an acorn or a mushroom. It is important to make islands like this one for the children," because children growing up in urban areas miss the beauty of nature.
Spencer Brookes and Lynne Draper of the Conservation Commission presented thanks and certificates to about 20 people who had worked on the project. He particularly noted Geiger and his farm crew, Mike and Carol Andrews who worked on securing grants, and Cary Hughes who had compiled the background of the farm, which dates to the mid-1700s.
The group then walked to a pasture gate beside Abbott Hill Road and installed a large sign provided by LCHIP.
The group also toured the dairy barn, home of the last dairy cows in Wilton. The name of each of the 15 milkers is above her stall, such names as "Gunda," "Cider" and "Snow Flower." Each cow knows her stall, if not her name, Geiger said. The farm has another 15 to 20 calves, dry cows and other animals, Geiger said, plus about 100 chickens. They hope to expand, he said, "and maybe add some goats."
In addition to LCHIP, grants were received from the U.S. Department of Agriculture, $125,000; Dept. of Environmental Services Water Supply Land Grant, $84,000; Town of Wilton, $40,000; Wilton-Temple Community Farm, $44,000 (which includes fund raising by adjoining High Mowing School), plus many individual contributions.
Brookes was also present to formally open a section of trail that adds about 1,000 feet of permanent easement to Corridor 13 of the N.H. Trails System. The Corridor links Massachusetts with Canada and provides a trail for snowmobiles, cross-country skiers, horseback riders, hikers and snowshoers.
Funds to acquire the trail easement were provided by N.H. Trails Bureau (part of the N.H. Dept. of Resources and Recreation), $10,000, and Wilton-Lyndeborough Winter Wanderers Snowmobile Club, $1,000.
Brookes expressed special thanks to Bruce Rafter, snowmobile trail coordinator for the town, and Laurie and Ed Migneault of the snowmobile club.
The Wilton-Temple Community Farm is one of the oldest such programs in the country and serves about 100 families. Each member contributes to the cost of the program and receives, in return, fresh fruits, vegetables, eggs and milk.
The farmhouse is listed on the National Register of Historic Places. Ownership of the property remains with Moheban.