Load of trouble 63,000-lb. concrete form hits Hudson on-ramp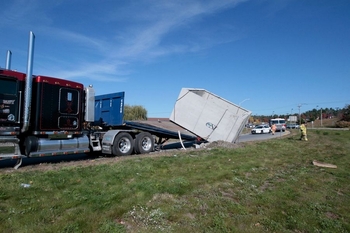 HUDSON – A mammoth square of precast concrete roughly 10 feet by 10 feet in size and weighing some 63,000 pounds closed the southbound on-ramp from Lowell Road to the Sagamore Bridge for four hours Friday afternoon after it slipped from its transport trailer.
Police Lt. David Bianchi said the concrete form, which was being driven from Hudson's Concrete Systems Inc. to a road construction site in Dorchester, Mass., apparently shifted on the trailer as the driver steered onto the ramp. The movement snapped the chains that secured it to the trailer, Bianchi said, causing the form to slide onto the road and grassy median.
The trailer came to rest partially off the ground, while the truck portion of the rig remained on its wheels.
Concrete Systems, which specializes in precast concrete products, was founded in 1972 and is headquartered on Commercial Street in Hudson. Most of its products are used in major construction of roadways, culverts, retaining walls and concrete storage facilities.
The operator of the truck, Robert Ogden, of Tewksbury, Mass., wasn't injured in the incident, Bianchi said. The truck is owned by Ever Ready Trucking, based in Billerica, Mass., he added.
Ogden, a tall, burly man with long white hair and matching beard, declined to comment as he walked around the scene checking the damage. A man driving an escort truck behind the trailer said he was watching to make sure nobody tried to pass the oversized load on the ramp, and when he looked forward, the concrete was tipping and pulling the trailer with it.
Police and fire officials roped off the ramp, sending bridge-bound traffic to the next intersection. The closure caused a backup in the southbound lane, while northbound motorists slowed out of curiosity.New Hampshire Highway Enforcement officers arrived shortly after the mishap to interview Ogden and begin investigating the incident.
Heavy equipment was summoned to the scene and crews worked much of the afternoon to remove the block and right the twisted trailer. The concrete's weight took a chunk out of the median, but the roadway wasn't damaged, Bianchi said.
He said the ramp was reopened around 4 p.m.
Bianchi said Highway Enforcement is continuing its investigation.