Littleton reaps benefits from school-town partnership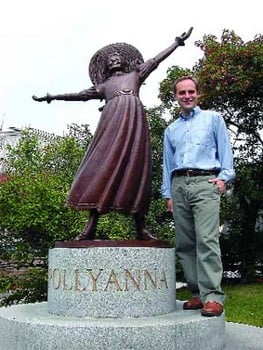 Pollyanna. You remember her. The relentlessly cheery girl played by Hayley Mills in the 1960 Disney film of the same name. The one who transformed the wretched, glum, fictional New England town of Harrington into a cohesive, cheerful community through the sheer power of her childlike optimism. The one who always found something to be glad about.
In Littleton, New Hampshire, Pollyanna's back. Or rather, she never left.
Take a walk down Main Street and you'll see her. In a broad-brimmed straw hat, arms spread wide to take in the sunshine and fresh air, a bronze statue of the famous character stands in front of the Littleton Town Library. Just a stone's throw from here is the childhood home of Eleanor Hodgman Porter, Pollyanna's creator and author of the 1913 novel on which the movie was based. And just across the street from that statue, in the town offices of Littleton, there's someone else who has a lot to be glad about: Jason Hoch, Littleton's town manager.
Like the fictitious "glad town" of Harrington (named Beldingsville, Vt., in the novel), Littleton has a lot to be thankful for, especially for its children. As Hoch explains, this town of 5,800 has over the past few years adopted an innovative new policy. Almost all its public projects, from rejuvenating Main Street, to constructing an educational nature trail, to setting up a comprehensive GIS mapping system, use public school students to do a significant amount of the planning and execution.
The program of town-school partnerships has been made possible in part by Project CO-SEED, a program of the Center for Place-based Education at Antioch New England Institute in Keene.
"There are certain things where, if I had to pay a consultant to go gather a certain amount of field data, I'd pay them X number of dollars," said Hoch. "When I use student interns, I pay a quarter of that."
Not only does the town save money, he said, but the partnership has enhanced the quality of education offered in the public schools. Students get many more opportunities for practical, hands-on learning. They see first-hand how town government works and how the latest technology is used to provide services like water quality, law enforcement, even snow removal.
Winters in Littleton are fierce, with ice and snow a perennial problem and expense for the town. Between equipment, materials and staff, the town spends an average of $3,000 per storm. Not to mention the ecological impacts of running heavy equipment, consuming fuel, putting out emissions and spreading harmful salts that make their way into the Ammonoosuc River.
When Littleton High School physics teacher Bill Church approached Superintendent of Public Works Larry Jackson looking for ideas for a project his students could do that would benefit the town, Jackson immediately suggested heated sidewalks.
Now an innovative group of high-school students under Church's leadership is testing their own invention to clear the white stuff off Littleton's downtown sidewalks by capturing escaped heat from chimneys.
"Sidewalk and street and driveway heating existed already," Church said. "Our idea was to power it with alternative energy."
Working with a $10,000 InvenTeam grant from the Lemelson-MIT Program, Church and his students eventually came up with a practical answer, harnessing the heat generated by nearby buildings.
Church paired his students up with community mentors including Hoch, Cathy Conway (then town engineer), George Broeder (project administrator for the high school's $6 million renovation) and numerous other town officials, engineers and contractors.
Because the high school was already slated for renovation, the students had a perfect laboratory in which to test their ideas. The sidewalk in front of the school was slated to be ripped up. Before a new sidewalk was poured, the students installed their experimental system of radiant-heat pipes filled with a heated anti-freeze solution. The students are gathering data from this winter's snows that will be used to project the actual square-footage of downtown sidewalk that could be melted using the available supplies of heat from chimneys.
Plans call for installation of a working system in the sidewalks on Main Street as part of its upcoming renovation.
The project is providing Littleton with a cost-effective, energy-efficient alternative method of snow removal. It's also getting kids fired up about learning. When they see their own ideas turned into reality, physics suddenly becomes fun.
"As one student told me, 'This is the first winter break where I've wanted it to be cold and snowy,'" Church said.
Great expectations
All of which raises the question: Is the quality of all this inexpensive student labor really up to the level of the services that could be provided by paid consultants?
"I want to see real results, not just make-do because it's students and cheaper," Hoch said. "My expectation is the same. I think it's important not to have a separate frame of reference for students and outside consultants. It's not a real-world situation if I'm expecting and accept a watered-down product."
The one area in which Hoch does adjust his expectations is time. Paid consultants work a full day on a project or problem, while students must fit the project in among their other studies. So if a project requires a fast turnaround, Hoch will consider leaving students off the team.
"I have a different time horizon, but in terms of product I expect the same thing," Hoch said.
For example, the town recently had to consider the best way to get a fiber-optic telecommunications network. One option was to have the town build its own network and another was to put pressure on Verizon, the local telephone carrier, to do the work. Littleton hired a Massachusetts-based consultant to study the question, but the contract required the consultant to use students from the marketing department of the local vocational school. The students conducted a citizen survey and collaborated with the consultant on developing his final report.
Stronger connections
These kinds of partnerships don't spring up out of nowhere. Littleton has been carefully developing closer relationships between school and town management for years. It started in 1996, when the town experienced major setbacks in getting both town and school budgets voted in.
In an effort to get budgets passed, the town and school began to pool their resources. They looked at expenses that could be shared. They merged their two budget committees into one, and they began presenting combined budgets that allowed voters to see exactly what the tax increase would be for a complete package of services.
Later, town/school partnerships got a boost when Littleton was selected to be a CO-SEED site. Under project CO-SEED, a school or school system enters into a three-year partnership with Antioch and with a local environmental learning center, in this case the Appalachian Mountain Club. Then the school goes through an intensive process of changing to become more environmentally "green" in its curriculum, in its policies and in its school grounds.
The program also strives to build stronger connections between the schools and their communities, to involve kids in service-learning projects that benefit the community and to get teachers to use the community's outdoor and historic features as teaching resources.
"That was the key to what to do next to pull all these pieces together," Hoch said. Littleton had to compete to be selected as a CO-SEED site. "We met several times, lobbied Delia [Clark, a CO-SEED project manager] very hard. We told all of our wonderful stories that we had up to that point. We begged, groveled and pleaded. And lo and behold, we were chosen."
Many other school-town projects came immediately out of CO-SEED's involvement. Students and road workers together cleared boulders to create the Pine Hill Trail. A piece of wilderness land was designated the Town Reservoir Outdoor Learning Lab, or TROLL, and is now a largely student-run site for learning about and preserving the natural environment. And students organized a special evening activity that included a model solar system, with planets placed in the store-front windows along Main Street.
There's nothing Hoch would like better than to see other towns follow in Littleton's footsteps.
"For the past three or four years, we've gone to different places around the state and heard people say, 'Wow, what a great idea.' But how does this get replicated? There's a set of people that say, 'We want to be like Littleton.' While I appreciate the accolades, I want to know what are you going to do about it?"
Hoch's answer: "You can be sure everything we communicate here is, 'How can this have a school and community benefit to it?'" nhbr
This article was provided through Municipal Resources Inc., a New Hampshire-based firm that provides professional, technical and management support services to municipalities, schools and non-profit organizations throughout New England.