Listening to customers, employees is ActiveEdge's advantage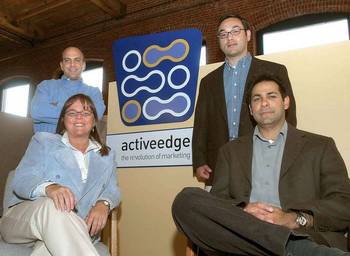 A keen eye for market trends may have been the driving force behind the birth of Active Edge New Media nearly a decade ago, but it's a sense of resiliency and adaptability along with that keen eye that has enabled the company to flourish in a competitive industry.
A commitment to meeting the needs of customers is shared by everyone at Nashua-based ActiveEdge, said founder and owner Deepak Gursahaney. This same sense of commitment is extended to company personnel and its contractors as well as the communities they work in, making ActiveEdge this month's recipient of the Citizens Bank Not Your Typical Business Award.
"Deepak Gursahaney and his company are great neighbors in the business community," said Kelly Jensen, Main Street branch manager for Citizens Bank in Nashua. "They provide excellent customer service by really listening to their customers' needs and goals rather than squeezing them into a one-size-fits-all type of campaign."
Gursahaney has successfully navigated ActiveEdge through changing trends and difficult circumstances, including the death of his original partner and college friend, Bevan Wang, who died on Christmas Eve in 2002, 10 months after being diagnosed with leukemia.
"It was a difficult time. We all worked very closely together, and each of us had our own distinct roles," said Gursahaney, 36. "Bevan took care of everything in-house and I was the external face."
A difficult transition period followed Wang's death, but since that time Gursahaney has regrouped with the help of company principal and Creative and Brand Officer Scott Wright and associates Duncan Hsu and Diane Vautier. ActiveEdge also enlists the services of a handful of contractors on a regular basis.
"From year one to today we've grown to about 10 times our original size as far as gross revenue is concerned," Gursahaney said.
Launched as a Web design company in 1997, ActiveEdge has evolved into a full-service, fully integrated marketing firm. Guided in its evolution by the needs of a growing customer base, ActiveEdge provides everything from direct mail packages to innovative Web designs.
"We're an integrated firm — we do the online stuff and the offline stuff," said Gursahaney. "We do both well and we do it without having layers. We deal with our customers directly."
This direct contact with customers has been essential to the success of ActiveEdge, Gursahaney said. It allows ActiveEdge to develop a solid understanding of customer needs and establish an effective integrated marketing strategy for each customer.
The company's commitment to understanding the needs of its clients has been paramount in maintaining the long-lasting relationship that exists between ActiveEdge and Unifund LLC, a software company specializing in the development of accounting and financial software for educational institutions and local governments.
"They spent a lot of time with us trying to understand our business and our customers in particular," said Roger Melanson, founder of Unifund, who has worked with ActiveEdge since 2002. "They shared our concern that 100 percent of our customers could access our Web site and balanced their recommendations with the needs of our customers."
For Wright, this type of service is a given. It's one of the things that differentiate ActiveEdge from other marketing companies.
"Our ideology is to focus on being an extension of the company we're working with, not just get in, do our job and leave," Wright said. "We form strong relationships, friendships with our customers."
The same is true in-house, where the four full-timers who work at the company's Millyard Technology Park office in Nashua eat lunch together regularly.
"People take time out of their day to recharge. It lets people share ideas and get together personally," Wright said. "If we're not laughing and having fun we're doing something wrong."
Gursahaney recognizes and Wright appreciates that the needs of employees change. This understanding lends itself to an air of flexibility at ActiveEdge, which is appreciated by all.
"One of the greatest benefits to working here is the flexibility. Life isn't scripted, things come up and people need time," Wright said. "It's a give-and-take environment, and people are all willing to go that extra mile because of it."
Gursahaney and the rest of the ActiveEdge team also go that extra mile when it comes to lending their marketing and Web expertise and time to community causes.
The brand identity for Greater Manchester and the Web site for Greater Nashua chambers of commerce were both redesigned pro bono by ActiveEdge to represent the distinct and unique roles each organization plays in its community.
ActiveEdge employees reach out to their own communities through involvement with organizations like the Manchester YMCA, Big Brothers Big Sisters, Families in Transition, Dollars for Scholars and the Juvenile Diabetes Research Foundation.
Gursahaney himself serves on the board of the Greater Nashua Chamber of Commerce and is membership chair of the Rotary Club of Nashua.
The Citizens Bank Not Your Typical Business Award is presented in partnership with New Hampshire Business Review. Businesses are selected each month based on the company's commitment to community, colleagues and customers. Visit Citizens Bank online at www.citizensbank.com.