Listening, problem-solving give direct-mail firm an industry edge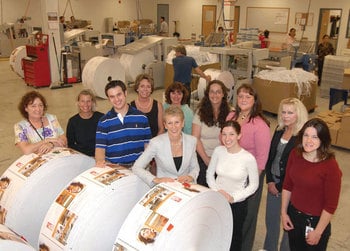 Polaris Direct has only been in business for four years, yet it has already established a list of satisfied customers confident in the knowledge that their printing and direct mailing needs will be met in an efficient and professional manner.
Add to this a growing number of local nonprofits appreciative for the lettershop and print management company's support and a network of employees content in their roles, and it's easy to understand why Polaris Direct has been named June's Not Your Typical Business by Citizens Bank and New Hampshire Business Review.
"Polaris Direct's growth over the last few years can be attributed to the exemplary service they provide to their customers, dedication to their employees and commitment to their community," said Michael Gonzales, vice president, commercial lending for Citizens Bank. "They have developed a successful model and should be proud for all that they have accomplished."
Partners Judith and Joe Maloy and Suzanne and Tom Lampognana launched Polaris Direct in 2003. Since then, the company has grown into a $24.8 million business focused on bringing together customer-specified data and copy in direct mailing packages designed for promotional customer retention programs.
"We are a solutions-driven, problem-solving company that puts great emphasis on providing good service to our customers," Judith Maloy said.
Originally housed in the Amoskeag Business Incubator in Manchester's Millyard, Polaris Direct is now located in a 72,000-square-foot facility at 300 Technology Drive in Hooksett. As many as 2 million pieces of mail are processed each day at the facility and nearly 20 million pieces can be stored in the firm's 20,000-square-foot warehouse.
Even with that large volume of mail, the company chooses to focus on a variety of targeted customized jobs, providing customers with individual attention while maintaining a diverse client base.
"In our industry there has been a tremendous amount of consolidation, but there are many companies out there that still need to be listened to," said Joe Maloy. "There's a need for extraordinary customer service. There are still those who put value on listening and problem-solving and that's how we do business here."
This individualized service has kept Linda Rao, coming back since the day Polaris Direct began.
"In many cases the Polaris team has provided us with innovative, sensible suggestions that enabled us to pursue new and exciting direct mail designs that would have otherwise not met our marketing criteria," said Rao, assistant vice president of marketing production for New York Life/AARP. "Polaris Direct has made it clear over the years that this partnership is as valuable to them as it is to us. They are a true business partner."
Faith and trust
Recognizing the importance of remaining diversified early on, Polaris Direct serves numerous industries, from insurance and telecommunications, to finance, education and nonprofits. Citigroup and Verizon are only two of the well-known companies employing Polaris Direct's services.
"We built our business on a stool with five legs, so if you pull one or two out the stool will still stand," Joe Maloy said. "If you diversify your customer base you avoid the peaks and valleys in the direct mail industry."
The development of a healthy and diversified customer base also means stability and security for the company's 74 employees.
"We've worked right from the beginning to build faith and trust among our employees," Joe Maloy said. "These are the people that will come in on a Saturday or Sunday or a holiday. Our employees are what make all this happen. We owe it to them."
While the company's competitive salaries and benefits packages is appreciated by all who work there, it's the "little things" – like birthday celebrations, movie passes, social coffees and an annual barbecue — that really add to the positive atmosphere apparent at Polaris Direct, according to Judith Maloy. "We try to pay attention to the things that make this a nice place to work," she said.
Such dedication to employees has not been lost on Cindy Perkins, director of operations.
"They show concern that all their employees are taken care of," said Perkins, who has been with the company almost since its inception. "They have confidence in their people and let them do their job. They're open to new ideas and they know us all by name. That's so important."
To the Maloys and the Lampognanas providing a pleasant and secure work environment just makes good business sense. They share a similar view about supporting community initiatives.
Since its inception Polaris Direct has supported through time, sponsorships and monetary and in-kind donations a number of local organizations including the USO, American Red Cross, Granite State Symphony and the Payson Center for Cancer Care at Concord Hospital.
The Maloys and Lampognanas also are active in such groups as the Boy and Girl Scouts of America, Dress for Success and Hopkinton's ecologically driven Project REACH.
Individual employees reach out to the community as well, volunteering at such well-known organizations as the YMCA.
"If you're successful and your business is successful, you have to give back to the community – it just makes sense," said Judith Maloy.
The Citizens Bank Not Your Typical Business Award is presented in partnership with New Hampshire Business Review. Businesses are selected each month based on the company's commitment to community, colleagues and customers. Visit Citizens Bank online at www.citizensbank.com.