Liquor Commission to sell former Salem site
Nautilus Group to handle sealed bid sale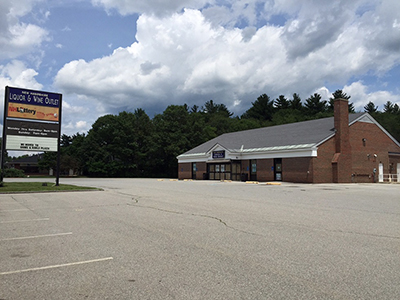 The NH Liquor Commission has put up for sale the site of the former Salem Liquor & Wine Outlet at 417 S. Broadway in Salem in the wake of the opening of its new, much larger store elsewhere in the town.
The parcel, which was the site of a state liquor store for 50 years, has an estimated value of $3.5 million and will be sold in a sealed bid sale coordinated by North Hampton-based Nautilus Realty Group, which was selected by the state in May to be its broker for the sale.
On June 18, the commission relocated the Salem store and opened the largest NH Liquor & Wine Outlet to date at 92 Cluff Crossing Rd. The new 24,000-plus-square-foot location is anticipated to generate more than $25.7 million in annual sales – a $2 million increase over Fiscal Year 2014 figures.
Over the last five full fiscal years the South Broadway location has perennially ranked fourth in NHLC's 78-store network of retail operations with a total in excess of $112,478,766 in sales or an annual average of $22,495,753, according to the commission.
Originally built in 1965, the 10,748 square foot retail store sits on 4.898 acres.
According to Christopher McInnis, president of Nautilus Realty, "The sealed bid process allows the market to compete and will yield the maximum fair market value for this property and thus generate the highest possible financial return to the State of New Hampshire."
McInnis said the suggested indicative offer for the property is $3.5 million. All offers to purchase the property are due to the NH Department of Administrative Services by 2 p.m. Aug. 6.
For more information, contact McInnis at 603-964-0472 or cdm@nautilusrg.com.