Lindt USA breaks ground on big expansion in Stratham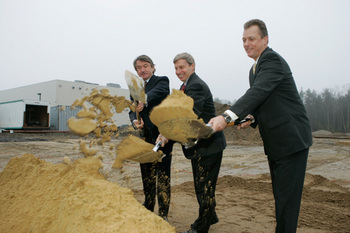 Lindt USA, the U.S. subsidiary of the Swiss chocolatier, officially began work earlier this month on a 300,000-square-foot expansion of its production and distribution facility at the Stratham Industrial Park.
A Nov. 13 ground-breaking ceremony for the expansion was attended by company officials, Gov. John Lynch and Stratham town officials.
After the project is finished, the company will be among the Seacoast's largest employers, with some 1,000 employees.
Part of a two-phase expansion project, the expansion will allow expanded production of Lindor Truffles and the start of manufacturing of Lindt's full line of chocolate bars, which currently are made exclusively in Europe.
Lindt's chocolate bar collection includes Excellence, Lindor Milk and Swiss Bars.
The plan also includes quadrupling the number of loading docks at the facility to 24.
The Stratham expansion is expected to add at least 200 more jobs in manufacturing, administration and management, said Thomas Linemayr, CEO and president of Lindt USA.
Linemayr said the company has experienced 30 percent annual sales growth since 2002 and the company has tripled sales in the last 30 years.
That growth can been seen in Stratham, where Lindt opened its facility in 1993 with about 100 employees. The firm currently employs about 800.
The future is certainly bright for Lindt, said Ernst Tanner, chief executive officer of Lindt & Sprungli International Group. He said that consumption of chocolate in the United States increases by about 2 to 4 percent a year.