'Leap Into Possibility' at media summit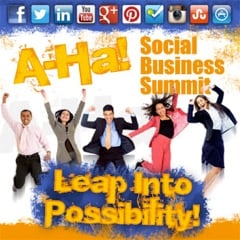 "Leap into Possibility!" is the theme of the fifth annual Social Business Summit, to be held Friday, Nov. 15, at Southern New Hampshire University in Manchester.
The event also will be broadcast online via live stream and available later via video on demand.
Presented by Epiphanies Inc. and SNHU, the summit will feature speakers and panelists culled from an array of professionals whose companies have collectively served hundreds of thousands of businesses and organizations worldwide.
Lani and Allen Voivod, co-owners of Epiphanies and co-founders of the "A-Ha!" summit, will serve as emcees for the daylong event.
Panel discussions include a special "Get Off Your Butt and Start Making Videos" session and a "Possibility Panel" featuring open Q&A time for the audience with all of the Summit speakers and panelists.
"Today's professionals have to master an ever-expanding range of digital marketing practices, and the speakers and panelists are responding with an amazing program this year," said Lani Voivod. "They'll be covering social media, video strategies, online branding, digital engagement, inbound marketing, search engine optimization, mobile integration, content creation, social storytelling, and even the value of what can't be measured."
Early-bird pricing is open for a limited time. For more details and to register, go to http://www.AhaSummit.com.
Event partners and sponsors also include Constant Contact, Flock Marketing, the state Division of Economic Development, NHBR, the "New Hampshire Today Show with Jack Heath" on WGIR AM 610, Perk at Work, Capital City Limousine and the Common Man Family of Restaurants.