Latest PSNH customer migration report is a mixed bag
The new migration numbers came after the highly publicized default of an alternative residential supplier that also served some commercial customers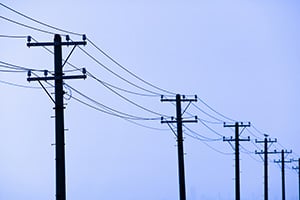 Residential and small business electricity customers are continuing to switch from Public Service of New Hampshire to alternative suppliers, but some of the company's midsized and large commercial customers have returned, according to the PSNH's latest customer migration report to state regulators.
On the whole, that works out to a mixed bag for PSNH over the last six months, at least in terms of power sold. But the migration rate, which was 47 percent in October and then fell to 42.2 percent in January, was back up to 45.2 percent at the end of the March.
The migration numbers came after the highly publicized default of an alternative residential supplier that also served some commercial customers, but before a favorable ruling on PSNH's proposal to offer a temporarily lower welcome-back rate for larger users that no longer buy their power from the utility.
According to the report, nearly 50,000 former PSNH customers are now paying other providers for their power (though they are still paying PSNH to deliver the electricity) — slightly more than double the number last October.
That means that alternative suppliers captured 11.73 percent of the load in the PSNH service area by March, compared to 6.26 percent just six months before.
The increase is all the remarkable because it happened during a time when one supplier — PNE Energy Supply LLC — ran into financial difficulties after a price spike in natural gas-generated electricity forced a related aggregator, Resident Power, to quickly transfer customers. At first, PNE tried to send the customers to FairPoint Energy, another alternative supplier, but regulators aborted the transfer when PNE ran out of money, switching the bewildered customers back to PSNH.
Last week, after a highly publicized investigation and hearing, the state Public Utilities Commission approved a settlement requiring PNE to pay each of its customers $9.50 and allowing PNE back into the supply business if it paid off its debt, increased its reserve account, and issue a PUC-approved statement — released Friday — explaining what happened to its customers.
"There are currently 14 registered providers of competitive energy supply, and PNE will continue to be one of those providers," concluded the statement. "There are lessons to be learned from this experience, and PNE apologizes to its customers for any confusion or inconvenience that may have been caused."
But at the same time, some larger commercial customers — which had been buying their power from PSNH competitors — were starting to switch back to the utility.
Back in October, the commercial customers — just slightly over 100 companies — bought 98.47 percent of their electricity from alternative suppliers. In March, that percentage went down to 93.25 percent. There was also a slight decline in the amount of electricity midsized customers were buying, from 78.9 to 77.7 percent. Small business migration increased slightly as well, from 40.7 to 41.2 percent.
The same spike that nearly killed PNE might have driven larger customers to buy their power from PSNH because the natural gas price increase could have pushed the spot market up higher than the default rate. Alternative suppliers can make their own deals based on market price, even switching them back to PSNH when prices go up. Meanwhile, residential customers, who are protected by tariffs filed every six months that spread out such spikes, would remain largely unaffected. They are more likely to be driven away by PSNH's recent price increase, which went into effect in January.
But while you'd think PSNH would be pleased that some of its biggest customers are coming back, the coming and going illustrates a problem, said PSNH spokesman Martin Murray.
"The problem is, we have to have equipment maintained while they are away, even though they aren't paying for it. Just because people leave doesn't make these costs go away," he said.
PSNH had proposed a pilot alternate default rate for commercial customers that have fled. On April 8, the PUC approved the idea by a 2-1 vote, but the alternate rate will only be allowed for a year. If PSNH goes along with that and other conditions, it will file a tariff, probably sometime in May. The alternate rate would be based on the market rate, plus an additional profit margin that would be used to lower the default rate.
The two-tier system has been criticized by PSNH's competitors, as well as by Commissioner Michael Harrington, who in a strongly worded dissent called it "discriminatory pricing."