Latest Brady Sullivan acquisitions total 775k square feet
Office and industrial buildings purchased in Nashua, Manchester, Hudson and Concord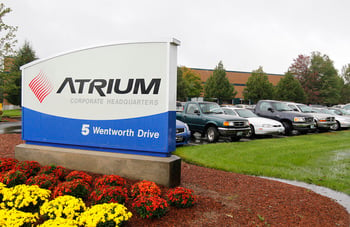 Manchester-based Brady Sullivan Properties closed 2015 with a record acquisition campaign, including the purchase of two large commercial real estate portfolios in Manchester and Nashua totaling more than 775,000 square feet.
The most recent purchase consists of a five-building Class A office and industrial portfolio in greater Nashua from RREEF Property Trust, based in Chicago, Ill. The 500,000-square-foot acquisition was completed for $17.5 million.
The portfolio includes Birch Pond Office Park, a 73,000 square-foot office building; 22 Cotton Road, a 154,000-square-foot office-R&D building; 472 Amherst St., a 98,000-square-foot flex building; and 15 Trafalgar Square, a 34,000-square-foot office building, all in Nashua. The portfolio also includes 5 Wentworth Drive, a 140,000-square-foot medical device headquarters facility in Hudson that will be occupied by Atrium Medical Corp. until July 2017.
Cushman & Wakefield's Tom Farrelly, Denis Dancoes, Sue Ann Johnson and Matt Pullen brokered the sale and represented the seller. The team has been retained as leasing agents for the five-building portfolio.
At the end of November, Brady Sullivan acquired a second office building portfolio of five properties totaling 275,000 square feet for $11.5 million.
The same C&W team brokered the sale, which includes One and Two Capital Plaza and Eagle Square in Concord, which are being marketed for lease by Brady Sullivan Properties' commercial team of Charles Panasis and Ben Kelley. Also includes is 146 Main St. in Nashua and 2 Wall Street in Manchester.
The Manchester location will be marketed for lease by Cushman & Wakefield.