Laconia Area Community Land Trust saves 65 affordable units
Consolidation preserves affordability of Ashland, Meredith housing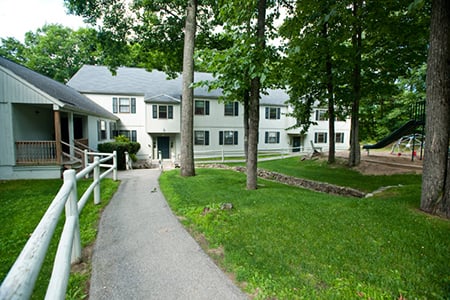 The Laconia Area Community Land Trust recently completed a 65-unit preservation project, purchasing 40 units in Ashland and 25 units in Meredith and through consolidation of the properties preserve the units' affordability.
Originally developed with USDA Rural Development financing, the affordability for the Meredith units was due to expire and the Ashland units in a few years. By creatively consolidating the two properties, LACLT was able to save the imminently expiring 25 units as well as preserve the other 40 units as permanently affordable.
The housing was originally developed by the late Dave Hodges Sr. of the Hodges Companies. The company wanted to honor his legacy and commitment to affordable housing and approached LACLT to do so, the organization said.
LACLT was among the first in the nation to work with Rural Development to creatively purchase, refinance and renew the subsidy and affordability of these expiring projects.
The properties have been renamed Harvey Heights, in honor of Linda Harvey, founding executive director of the land trust who is retiring in May after 24 years with the organization.
She said LACLT will seek financing for rehab and upgrades to the 65 units. Upgrades will include new energy efficient heating systems, replacement of windows to improve building envelope, replacement of roofs, on-site recycling, and many others.