Laconia agency targets need for starter homes
Absence of affordable housing tied to population stagnation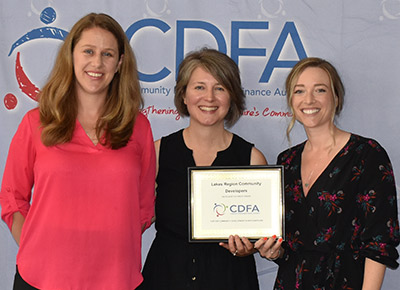 "Single-family homes at reasonable prices are what is needed," said Carmen Lorentz, executive director of Lakes Region Community Developers, which is seeking to add such homes to its portfolio of permanently affordable workforce housing. "Nobody is building starter homes, and there is literally nothing on the market. The private sector is not serving this market."
In December 2016, Lorentz became executive director of what was then the Laconia Area Community Land Trust, a nonprofit corporation that for the past 25 years has developed permanently affordable housing in Laconia and nearby towns. Before joining the agency, Lorentz, who was raised in Gilmanton, spent more than a decade in economic development, first with Camion Associates of Saratoga Springs, N.Y., then as executive director of the Belknap Economic Development Council and then director of the NH Division of Economic Development.
According to Lorentz, meeting the demand for starter homes is essential to attracting a younger age cohort, providing employers with an adequate workforce and mitigating the impact of an aging population.
Under Lorentz, the agency has adopted a strategic plan, which together with developing single-family housing includes addressing the spatial needs of community service organizations as well as building social capital and promoting civic engagement among the agency's tenants and their neighbors.
To signal that broader mission, the directors changed the name of the agency. "They had been discussing it for some time," Lorentz said. "We don't just operate in Laconia and we're not a land trust," she said.
Workforce housing
Throughout its history, the organization has constructed or rehabilitated 341 apartments in Laconia, Meredith, Tilton, Ashland and Wolfeboro. It currently owns and operates a property portfolio worth $47 million.
"We developed multifamily rental properties," Lorentz explained, "because there was little state funding for housing development, and federal funding mostly consisted of the low-income housing tax credit program, which is confined to multifamily projects."
In 2017, the organization's 341 units housed 320 households with 679 people, 37 percent of them children and 15 percent of them elderly, with just 3 percent of units vacant. Two-thirds of the residents aged between 26 and 60 worked one or more jobs, a fifth of them in health care, for 125 different employers throughout the region. "We will continue to pursue our original mission of developing workforce housing," Lorentz said.
Toward that goal, Lorentz said the agency its seeking to expand its mission to include development of single-family homes priced within the means of first-time homebuyers, who find themselves shut out of a market in which median prices have jumped more than 30 percent in the last five years and inventory is selling faster than any time in the past two decades.
The New England Real Estate Network reported that in 2017 the median home price in Belknap County reached $229,000, nearing the all-time high of $239,900 in 2007, while properties were sold within an average of 81 days. Likewise, the median home price in Carroll County climbed to $230,000 and properties sold within an average of 100 days.
Moreover, there is a dearth of smaller homes on the market. The number of single-family building permits fell to little more than 2,000 a year during the recession, matching the pace of 1962, and, despite picking up since 2012, is still shy of 3,000 a year — half the number issued in 2000. And the number of homes with three or more bedrooms is greater than all the smaller homes together.
While other states, including Vermont and New York, fund programs to build starter homes and rehabilitate existing homes, Lorentz said that although New Hampshire offers financial incentives to first-time buyers, the state does not contribute to the development of single-family housing.
Stiff challenges
Lorentz said that those seeking to buy their first home, whether single people or working couples, are often laden with student debt and short on a down payment. They may find older homes selling for $250,000 or more, but requiring another $100,000 in renovations and improvements beyond their means. Or they may be outbid by older buyers seeking to downsize who bring equity from the sale of a larger home to the transaction.
"We're targeting families with incomes between $60,000 and $85,000, or 75 percent to 120 percent of the area median income, purchasing their first homes," Lorentz said. "Nobody is building for this market."
She said that the first 20 homes, priced between $150,000 and $175,000, are planned at Harriman Hill in Wolfeboro, where the agency has already built 48 one-, two- and three-bedroom apartments on a 35-acre site in the town's workforce housing overlay district. The project was recently awarded one grant and is awaiting another that, when combined, would provide $610,000 to fund the road, water and sewer. "We've spent two years seeking funding," Lorentz said.
Lorentz said that the houses and lots would be sold just like any others, but the deed would include terms to ensure that the properties would remain permanently affordable as they changed hands. She envisioned a formula that would provide a reasonable return to sellers without setting sale prices beyond the means of buyers with incomes within the targeted range.
Financing the purchase of a suitable site and construction of the infrastructure pose the stiffest challenges to developing a single-family subdivision, Lorentz said.
In Wolfeboro, the project was undertaken by the Eastern Lakes Region Housing Coalition, formed in 2005 by officials and employers from Wolfeboro and neighboring towns to diversify the housing stock to support the economy and enrich the community. Their efforts were supplemented by a generous donation from a seasonal resident.
"These projects depend on property owners and municipal officials who are willing to cooperate," Lorentz said. "In Wolfeboro a landowner was passionate about it. We are partly reliant on charity and goodwill."
She explained that the agency would purchase an option to buy a tract of land contingent on assembling the financial package required to complete the project. "We can pay a reasonable price for land," she said. "Not an exorbitant price, but a fair price."
A TIF solution?
Lorentz suggested that municipalities could apply tax increment financing to fund construction of the roads and utilities required for residential development. Such financing allows municipalities to delineate so-called TIF districts, then apply a portion of the future tax revenues that accrue from the increase in assessed value generated by new construction, expansion or renovation of property within them to service borrowings used to fund public improvements within the district.
She said that she was not aware of a municipality using tax increment financing to finance infrastructure to support single-family residential development, but added she finds no impediment to doing so.
"It's not the cost of building the houses," Lorentz said. "We can build to the price points if the cost of acquiring the land and installing the infrastructure is right."
Lorentz foresees opportunities in Laconia with the redevelopment of the former Laconia State School property and a master plan aimed at encouraging residential growth. Last year, the Legislature formed the Lakeshore Redevelopment Commission to evaluate potential uses for the state school site, some 200 acres overlooking Lake Opechee to the east and Lake Winnisquam to the west. Camoin Associates was engaged to identify feasible scenarios. Lorentz said that if the property is open to mixed uses, there could be an opportunity to build starter homes, because, as publicly owned property, the price of land could be controlled.
Meanwhile, the master plan being prepared in Laconia proposes to open abundant acreage in the northwest reach of the city to residential development. City officials seek to offer competitively priced housing in order to spur population growth, which has languished since 1960, and balance a demographic marked by significant poverty and rapid aging.
In particular, an abandoned road running east to west connecting Endicott Street North (Route 3) and Parade Road (Route 106), both of which lead from Laconia to Meredith, would be reopened, providing access to the land between them.
Moreover, officials have suggested using tax increment financing to extend municipal utilities, water and sewer to the area to encourage private developers to build at different but competitive price points.
Mayor Ed Engler, among the principal architects of the master plan, said that he favors a mix of housing at a range of prices, with each price point below that of comparable properties in neighboring towns.
Lorentz said that the city's master plan and her agency's strategic plan complement one another. Implementing the master plan will require changes to the zoning map and ordinances, which if they include a workforce housing overlay district akin to that in Wolfeboro, would enhance the agency's prospect of building starter homes in the city.
"Nobody is doing it," Lorentz repeated. "It's good for the city. It's good for the region and it's good for the whole state."