L.L. Bean opens new kind of store in West Lebanon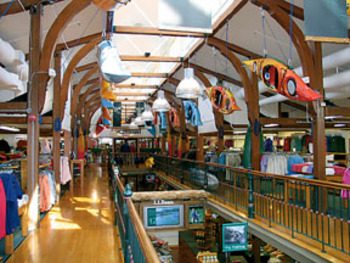 Founded nearly a century ago by the pioneer of direct marketing, L.L. Bean recently reintroduced itself to the Granite State – and, it hopes, the national market — with the opening of a store that signals the venerable firm's new commitment to becoming an even stronger and more visible force in the world of retail.
While the firm has operated four factory outlet stores in New Hampshire alone, one of them – at the Powerhouse Mall in West Lebanon – has been turned into a full-blown retail store, featuring top-quality items as opposed to the seconds and overstocked items found at the outlet stores.
The new selection includes much of the same merchandise found by customers who travel to the company's 120,000-square-foot flagship facility in Freeport, Maine.
The West Lebanon location is the fourth such full-price retail store opened by L.L. Bean since 2000 and is an indication of the company's new commitment to becoming as well known in the retail business as it has been to catalog shoppers since Leon Leonwood Bean sent out his first three-page flyer advertising his Maine Hunting Shoe in 1912, say company officials.
"We are serious about our regional retail expansion," said company spokesperson Rich Donaldson during a recent phone conversation from his office in Freeport, Maine. "Retail sales has been the most under-utilized channel for us. It represents only 20 percent of our annual sales and provides the greatest growth potential."
But is the timing right for L.L. Bean, a company so well known to catalog and Web shoppers, to expand its retail operation?
"Lots of retailers are looking to grow," said Paul Lejuez, stock analyst with Credit Suisse First Boston in New York City.
According to Lejuez, companies including The Gap, Pacific Sunwear and American Eagle Outfitters are in the process of developing new style concepts with the hopes of increasing retail sales. Sales numbers for these and similar companies continue to climb.
L.L. Bean's decision to expand its retail operation could be a successful one, given its size and name recognition, according to Dr. Michael Levy, professor of marketing at Babson College in Wellesley, Mass., co-author of "Retail Management" and co-editor of "Journal of Retailing."
"L.L. Bean is very strong in certain markets. If they carefully chose the correct markets and go about it carefully they will be successful," said Levy, who uses an L.L. Bean case study as a learning tool with his retail marketing students.
'Complicated business'
With the opening of three other stores in Columbia, Md., Marlton, N.J., and McLean, Va., since 2000, the West Lebanon location presented a good opportunity for the Maine outfitter to return to its New England roots. The fact that the company already had the location kept fit-up and capital costs down, and the surroundings were conducive to classes conducted through L.L. Bean's Outdoor Discovery School.
Another plus, according to Donaldson, is the size of the store. At 15,000 square feet, the new store is half the size of the ones in Maryland and New Jersey and less than a quarter of the size of the Virginia location.
"We felt the store in Lebanon would allow us the opportunity to work in a smaller format but offer enough space for a full assortment of the items people expect to find at L.L. Bean," Donaldson said.
Locally, the new format translates into more jobs — about 45 year-round positions and, it's hoped, an increased number of visitors to West Lebanon. For L.L. Bean, the new retail stores are expected to introduce first-time visitors to the company's catalog and Web site.
Expanding the retail operation is not without its challenges. The infrastructure is quite different, according to Donaldson. Deciphering what items sell well in retail and what should remain in the catalog, adjusting to seasonal stocking and managing shipping and inventory needs all need to be addressed.
"It's a complicated business," Levy said, adding, "most big retailers have separate entities for their bricks and mortar operations and their catalog or Internet operations."
According to Donaldson, L.L. Bean is well aware of the logistical challenges posed by expanding further into retail and said that a distribution center to handle retail inventory and distribution outside Bean's home state of Maine is a possibility.
L.L. Bean's retail expansion is not expected to stop with the West Lebanon store. Donaldson said the company hopes to continue its modest growth by opening two more stores over each of the next few years.
L.L. Bean's pattern of expansion is unique and economically challenging, according to Levy.
"Major chains will go into an area with multiple stores, putting stores within miles of each other for economy-of-scale purposes," Levy said. "Bean's choice to open one store in each market is an expensive way to do it. Fortunately, L.L. Bean is big enough with deep enough pockets they can learn how to be successful at a brick and mortar business."
"Our growth has been methodical and very deliberate," Donaldson said. "It's important that we manage our risk and the quality of our expansion."
Despite the fact a great deal of attention is being given to expanding Bean's retail division, Donaldson said fans of the outfitter's catalog and Web site need not worry.
"We are not de-emphasizing our position as catalog or Web merchandisers, we're just increasing our retailing," Donaldson said. "Our consumer-direct sales are still our core competency. The catalog is our number one marketing and customer communication tool."
Over 14 million catalog orders were taken over the phone last year, representing the largest portion of the $1.4 billion L.L. Bean did in sales. That is a 7.5 percent increase over the previous year.
While L.L. Bean's retail sales will increase with the addition of new stores, Donaldson said the company's Web business is expected to continue its growth, possibly catching up with catalog sales within the next couple of years.