Kinder Morgan, construction unions reach pipeline deal
Union labor would be used on proposed natural gas project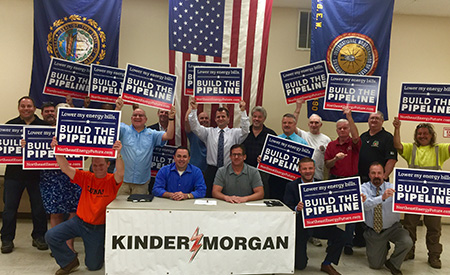 Kinder Morgan, the company proposing to build a natural gas pipeline that will run through southern New Hampshire, has signed a deal with the NH Building and Construction Trades Council that guarantees union labor will be used at all of its job sites, if the controversial project wins regulatory approval.
Steve Burk, president of the Building and Construction Trades Council, said the project, officially called the Northeast Energy Direct pipeline, will help "solve New England's energy supply crunch in an environmentally responsible way."
The project would also mean hundreds of jobs for New Hampshire pipefitters, welders, electrical workers and others in the building trades.
The pipeline, if completed, would carry up to 1.3 billion cubic feet of natural gas per day into New England.
"Our energy crisis is growing every year and we aren't doing anything about it," said Denis Beaudoin, business manager of IBEW Local 490. "We need more natural gas transmission capacity to meet New England and New Hampshire's energy needs, control the cost of doing business, and create jobs. Kinder Morgan's pipeline proposal is the most effective, least disruptive plan to increase the supply of clean domestic natural gas for all of New England."