Keene board backs plans for old middle school
Hudson firm plans multi-use commercial/residential project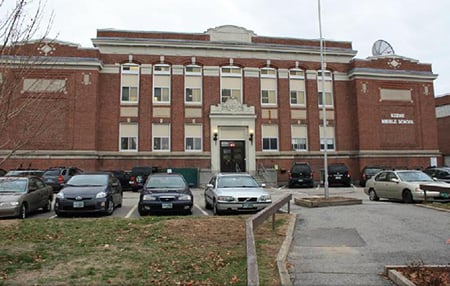 A plan to turn the former Keene Middle School into a multi-use commercial development has won the backing of the Keene Planning Board.
The project, planned by Hudson-based MDP Development, also calls for construction of a 124,000-square-foot, four-story apartment building to be built on the property.
The board approved the proposal at its Sept. 26 meeting despite vocal opposition from some residents who pointed to the possibilities of increased traffic, more difficult parking and noise associated with the businesses.
Called The Spot, the commercial portion of the project calls for a 200-seat restaurant, an 1,100-seat function space, a lounge and martini/whiskey bar, a billiards and game room, a bakery, a recording studio, retail stores and other businesses.
The developers said they will seek a building permit to start construction immediately and plan on having the first phase of the project, the restaurant and function space, open by the end of November.