June EYE Award Winner: Tammy Boucher, Boucher Public Relations LLC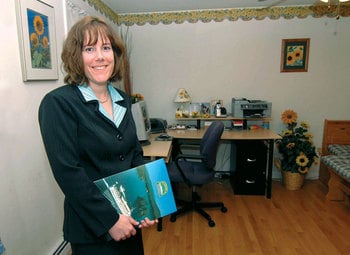 A desire to make a difference — a difference in the success of her clients and the life of her family – was the driving force behind Tammy Boucher's decision to launch her own company in December 2006.
"I wanted to do something that would allow me to spend more time with my family while at the same time allow me to really make a difference for my clients," said Boucher, a strategic communications specialist.
Armed with a journalism degree from the University of New Hampshire, Boucher worked as a newspaper reporter before honing her public relations skills with companies like High Point Communications in Bow and Daniel Webster College in Nashua.
Now owner of Boucher Public Relations LLC in Pembroke, the young entrepreneur enjoys putting her varied skills to work assisting clients with public relations, integrated communications plans, media relations, event planning, collateral development, crisis communication and advertising.
Boucher draws on the professional connections she's made over the years, enlisting the services of skilled public relations and graphic design experts when necessary to meet the needs of her clients in a successful and cost effective manner.
Named one of New Hampshire's "40 Under 40" two years ago, Boucher has been recognized with a number of local and national awards, including the SABRE Award, the Publicity Club of New England Bellringer Award, the PRSA Bronze Anvil Award of Commendation and the PR Week Finalist for Crisis Campaign of the Year.
Boucher also is a member of the Pembroke School Board and is active in the Pembroke Action League for Schools and her local church.
Still months away from its first anniversary, Boucher Public Relations LLC's client list already includes leading names in the education, health-care, nonprofit, corporate, financial and hospitality industries.
Although varied in their goals and needs, each company shares a commonality according to Boucher: "Every company plays a unique role in the state, supporting causes or providing a service important to the community. I believe in the missions of my clients, making it easy to promote them. This makes my public relations initiatives 'heart work' not 'hard work.'"
Tammy works and lives in Pembroke with her husband Steve, daughter Cheyenne and son Cove.
---
What inspired you to start your business?
A 9-year-old daughter, a 4-year-old son and a husband who said he would support me no matter what. I'm generally not a risk-taker — though I have gone skydiving — but knowing that I wanted more flexibility with my family, and wanting to take on new challenges in my professional life, starting my own PR business seemed the way to go.
What about this endeavor are you most proud of?
In a short period of time, I have been able to build a strong client base of companies and organizations that I truly enjoy working with and with whom I feel I am making a positive contribution toward their success.
Where do you see your business 10 years from now?
Given that all of my business to date has come from word-of-mouth or references, I believe strongly that if you work hard and do a good job, business will come. I'm hoping this philosophy will carry me through to even more success 10 years from now, with a continued strong client base and personal and professional happiness.
How do you kick back?
I enjoy spending time with my family, dancing, or relaxing with a good book. As a native of Pembroke, I also enjoy participating as a member of the Pembroke School Board in order to contribute to the community in which I live and am raising a family.
Who are your role models or sources of inspiration?
Without a doubt it is my parents who are my role models, having not only taught me the value of hard work, but also instilling in me that family is always your first priority. I don't remember an activity in which I was involved in where they were not present to support me and they continue to do so.
What is it about New Hampshire that made you want to keep your business here?
My roots are in the Granite State, and while I have always found it a beautiful place to live, as an entrepreneur I have now come to recognize that it is very easy to do business in New Hampshire with the many resources available to you. A small state also makes it easy to make great connections and establish long-term relationships.
What advice would you give other entrepreneurs like yourself?
Play to your strengths. If you enjoy doing something, you are more likely to succeed at it. Do your homework and make sure you have a viable enterprise, and don't be afraid to ask questions of industry experts. Most of all, have fun.