June EYE Award Winner: Nick Koloski, film location specialist and restaurateur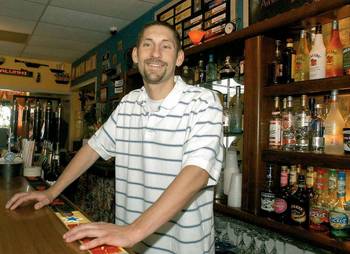 Nicholas Koloski has worked in a lumber yard, dabbled with the idea of becoming an electrician and is a certified volunteer firefighter with the Ascutney, Vt., Fire Department.
He's co-owned and sold a private security company and a towing company, was named the youngest dealer of ADT equipment ever, and provided security service for the very banks that turned down his loan requests after deeming his early venture "too risky."
Today Koloski owns Hullabaloo, a Claremont coffeehouse and café by day and martini bar by night, a sound service company that has catered to the likes of Al Gore and Bill Clinton, a budding multiservice company, Nicholas, Jonathan and Associates, and perhaps most notably, a location management company that is creating a name for itself among movie producers from New York City and California.
Koloski is 28 years old.
It was Koloski's dedication to the revitalization of his hometown and his reputation as a go-getter that brought his name to minds of state officials when the producers of "Live Free or Die," the offbeat comedy written and directed by writers from the former "Seinfeld" TV program, inquired about someone who could help them during their 2004 filming.
Initially uninterested in a position as location manager for the film, Koloski quickly reconsidered.
"It wasn't until people started to look at me like I was crazy that I began to rethink the whole thing," Koloski said during a visit at his Pleasant Street café.
Koloski has worked on two more films – finding suitable locations, organizing shoots, recruiting local actors and even playing a character double himself – since "Live Free or Die."
"Sensation of Sight," starring David Strathairn (who was nominated for an Academy Award for his portrayal of Edward R. Murrow in the acclaimed "Good Night and Good Luck") was filmed in Peterborough last October, and "Old Love" was filmed in Claremont in March 2005.
Koloski is currently scouting locations for the New Hampshire Film and Television Office, providing it with photographs for a newly developed location database.
---
What inspired you to start your business?
I knew I had a 50-50 chance of making it. It's not every day that you get visited by people like the writers of "Seinfeld," who ask you to read their movie script and come on board. Location management and scouting is unique and a real on-top-of-your-game challenge. Apparently I'm really good at it.
What about this endeavor are you most proud of?
The economic benefit — dollars I bring to the state. I ensure production funds are spent locally. I seek out needed products and people that a production is looking for and make sure it is located within the community or in the state before it's even an option to bring it in from the outside.
To date, we're somewhere around several million in the two years I've been doing this. This benefits the community and the production company as local resources tend to save money all while getting the job done in a timely manner.
Where do you see your business 10 years from now?
I believe in business forecasting, but I don't map out where things are going to go. If I looked that far ahead I'd miss opportunities to branch out. In the meantime, each day is a new opportunity, a chance to try something new.
How do you kick back?
I hang out with friends. We take trips to the Lakes Region, barbecues — those kinds of things. Because of my recent work I've been able to make some great connections, which have allowed me to get into the occasional concert. I love being able to take my friends out and see them smile.
Who are you role models or sources of inspiration?
My mom. She raised me to believe anything is possible. She encouraged me to be creative, and that has certainly made me who I am today. Also, people who speak their minds, take chances and stand up for what they believe is right. Small business leaders. They are a wealth of knowledge.
What is it about New Hampshire that's kept you here?
It's a beautiful state with beautiful people and four seasons. Why would I want to be anywhere else? Here I'm not just one of the numbers. Here I make a difference and can influence change. I just don't want to be anywhere else.
What advice would you give other entrepreneurs like yourself?
Find something you love and follow your dream. I live by that old adage, "Naysayers never built an enterprise."
The Emerging Young Entrepreneur awards program is presented by New Hampshire Business Review in partnership with Centrix Bank. The monthly award honors New Hampshire's young business owners for their creativity, determination and business success. Visit Centrix Bank online at www.centrixbank.com.