July EYE Award Winner: Cory Nadilo, founder, Wings Your Way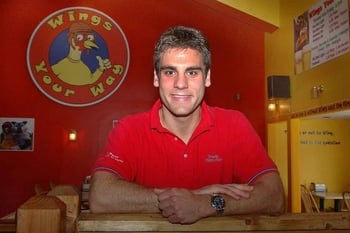 Even at a very young age, Cory Nadilo knew he wanted his own business.
In his 5th grade yearbook, Nadilo listed "inventor" as his future aspiration. Years later, while a student at Quinnipiac University in Connecticut, he pursued studies in entrepreneurship. It wasn't until his senior year, however, that he even considered becoming a restaurateur.
But, within three months of his 2005 graduation from college, Nadilo opened the doors to Wings Your Way on Jenkins Court in Durham.
With a creative menu boasting both bone-in and boneless wings, quesadillas, salads, wraps and burgers – sporting names like "The Monica Lewinsky" and the "The Big Willy" – the 22-year-old Nadilo and his partners (sister Kirby, father Rudy and neighbor Derek Fisher) have developed a strong following among area businesspeople, families and college students by offering a welcomed alternative to pizza and subs. Although less than a year old, Wings captured this year's "Best of NH" award from New Hampshire Magazine for its Buffalo wings.
The idea for a wing joint grew out of a business plan developed for a fictitious restaurant as part of a group assignment during Nadilo's senior year. Intrigued by the concept long after the assignment was completed, an industrious Nadilo committed to bringing the idea to life even without the continued interest of his classroom partners.
Nadilo signed the lease for the 2,600-square-foot restaurant in June 2005, less than a month after graduating. Today, walls painted in red and yellow and decorated with pictures of the restaurant's mascot, "Willy Wings," and wing-related slogans like, "Let he who is without wings cast the first bone," enclose seating for 52 people. An outdoor patio seats an additional 40 diners. Nadilo also recently has added a vending truck to take Wings on the road and opened an adjoining ice cream parlor, giving further testimony to his inventive spirit.
---
What inspired you to start your business?
I don't know if I was actually inspired to start a restaurant business, but I was drawn to the concept of "Wings Your Way." It was fun, and I think that's what kind of pulled me in that direction. It was the whole concept that excited me. I tend to be a long-term thinker, and I could envision what this would become.
What about this endeavor are you most proud of?
The response we've received. To put something together with my partners, Kirby and Derek, and then win "Best of" after being in business less than a year – I was so excited. When I got that phone call it just blew my mind. All those countless hours are really paying off.
Where do you see your business 10 years from now?
I hope we have a bunch of restaurants by then. I'd like to have a nice little corporate-owned chain. I'd like to see "Wings Your Way" become a household name, at least in the New England region. I want everyone to know what an "Eminem Wrap" is and to associate Del Fontaine with our bacon cheeseburger. Mostly, I hope people view Wings as a fun place.
How do you kick back?
I don't relax that much. I'm always thinking about work, payroll, backend stuff. When I do take time I like cycling a lot and getting to the gym as much as I can – it's a mental break for me.
Who are your role models or sources of inspiration?
My father. From day one, he has drilled into my head, "Have your own business." We talked about having a business together, and I feel lucky that right out of college we've been able to do that. He's always worked his tail off to provide for his family. He always tells me, "Reflect on what you've already done."
What is it about New Hampshire that's brought you here?
My family had moved close by just the year before – that, and having just graduated from college and knowing what type of place I wanted to make this, being in a college town just made sense. We didn't even look anyplace else. Our next location will not be in a college town.
What advice would you give other entrepreneurs like yourself?
Plan, plan, plan, plan. You can't plan enough. You'll never be able to plan for everything, but if you have a to-do list and break it down you'll get to most things. You just can't wing it. I know it's a terrible pun, but we say it around here all the time.
One thing my Dad taught me is to go with your gut. If you feel something in your gut, do it. Putting Wings together felt right, so we went with it.
The Emerging Young Entrepreneur awards program is presented by New Hampshire Business Review in partnership with Centrix Bank. The monthly award honors New Hampshire's young business owners for their creativity, determination and business success. Visit Centrix Bank online at www.centrixbank.com.