July EYE Award Winner: Brian Hooper, Mechanical Systems Inc.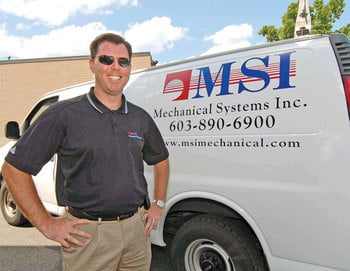 Mechanical Systems Inc. may not be the biggest mechanical and piping contractor and service provider in the region, but company vice president Brian Hooper will tell you it's among the best when it comes to meeting the heating, air conditioning, refrigeration and piping needs of a growing list of clients.
"We've really built this company on a cornerstone of service," said Hooper, 34, son of the company's founder, Thomas Hooper.
Headquartered on Delaware Drive in Salem, MSI has fulfilled the mechanical needs of customers throughout southern New Hampshire and Eastern Massachusetts since 1995.
The company specializes in the installation and service of HVAC and refrigeration units for commercial, manufacturing, industrial and retail operations of all sizes.
EMC Corp., Simplex Grinnell, Genesys Software and DeMoulas Market are among MSI's list of clients.
As a young business leader, Hooper is deeply committed to his industry and the local community. Currently serving as a member of the board of directors of Associated Builders and Contractors, the national trade association of contractors, subcontractors and related suppliers, Hooper also is working diligently to promote the trades as a viable career option for today's youth.
It's not unusual to find MSI representation at career days hosted by area high schools. Hooper has partnered with local educators to develop cooperative internships for students interested in the trades and has hired four students who have successfully completed the program.
Currently working on developing a similar relationship with schools in southern New Hampshire, Hooper is hopeful his efforts will introduce career options to students and address the shortage of skilled tradesmen in the region.
Hooper lives in Windham with his wife Laura and daughters Sarah, 6, and Erin, 3.
---
What inspired you to start your business?
My inspiration is my father. He started in the HVAC business in 1978 and eventually co-founded a mechanical company. He was later faced with a serious health issue and took a part-time role in his company. He taught us a lot about running a company. He taught me not to get too big. To keep things small, know everyone, know their families and that's been our biggest thing.
What about this endeavor are you most proud of?
I am proud of the honesty, integrity and ethics of the staff at MSI, which is the driving force of the company's success. MSI's success would not be possible without the support of my family, loyal customers and hard-working employees.
Where do you see your business 10 years from now?
I want to continue to build a strong customer base while maintaining a stable workforce. I do not want to grow too large where that focus of customer service and quality can be lost.
How do you kick back?
I enjoy spending time with my wife and our two girls. I enjoy sporting events, playing basketball and softball and relaxing at the beach. I recently started to coach my daughter's T-ball and soccer teams, which is a lot of fun. We have many friends and extended family so we try to spend time with them as well.
Who are your role models or sources of inspiration?
My dad is my role model and my mentor. He has been in the business all my life, and I saw the amount of hard work it takes to run this business especially with all the curve balls this industry can throw at you. He is a great source of information and listens to all my concerns. He offers advice whenever I need it and taught me how important business planning is for the future.
My wife, my girls and Dick Hollis, a past co-worker also give me inspiration. My wife encourages me and allows me to see both sides of a situation and Dick taught me a lot about the industry.
Another source of inspiration, not only to me but to the company, is Jerry Redfern, our service manager. He works hard, has enormous talent and is willing to share his skills with me and our staff. Having someone like this to rely on is a big factor in making the company a success.
What is it about New Hampshire that makes you want to run a business here?
New Hampshire offers a friendly business and family environment. The southern New Hampshire area is rapidly growing in terms of local business and is a great place to raise my family. The state motto of "Live Free or Die" speaks volumes of the reason why I was attracted to this state.
What advice would you give other entrepreneurs like yourself?
Love what you do. Be dedicated, have drive and patience. Be prepared to work long hours, but balance your time between work, family and friends. Most importantly, don't micromanage — you can't do it all. Hire qualified people and focus on what you do best.