Joint program brings wellness to the workplace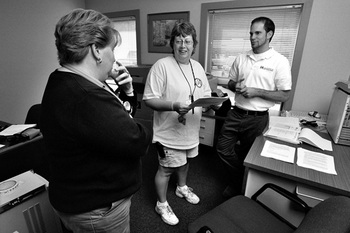 At D.D. Bean & Sons, a match manufacturing company in Jaffrey, employee Linda Gravel beams as fitness counselor Paul Pillsbury measures her body fat ratio, using a set of digital calipers that look like an electronic parrot head chomping on her midriff.
"You've decreased by 6 percent," Pillsbury says, an improvement that moves her from the "Fair" to the "Good/Very Good" category. "That's great!"
Gravel, a fifty-something diabetic, is clearly proud of her accomplishment, achieved through a combination of diet and exercise. For the past five months, she has been watching her blood pressure, eating more carefully and, according to her pedometer, putting in 40,000 steps a day—including a two-to-three-hour walk every day after work.
Gravel's motivation for all those steps is the Patriot Healthcare/Comp-Sigma Wellness Program, which combines a low-premium, high-deductible health insurance plan from Manchester-based Patriot with an in-house wellness program administered by Comp-Sigma of Concord.
"We start with a health risk assessment for each employee, which they complete online," says Lori Havener, program coordinator. Using these assessments, along with surveys of employees' interests, a team of "wellness coaches" tailors a program to the needs of employees at each company. The surveys also help identify people who are at risk for such issues as diabetes and high blood pressure.
The Patriot Healthcare/Comp-Sigma wellness team – consisting of Havener, Paul Pillsbury and Missy Wallace, a registered nurse – visits each enrolled company once a week to take blood pressures, check body fat ratios, provide health and fitness counseling, and conduct workshops and lectures.
The lectures are on topics that range from avian flu to demonstrations of low-fat cooking.
Holding the line
The Patriot Healthcare/Comp-Sigma program grew out of Comp-Sigma's successful loss-control program for workers' compensation. "Most workers' comp accidents are a result of unsafe acts or practices," says Scott Lawson, president of Comp-Sigma. Such practices can be ignored for months or even years — a situation Lawson calls the "dead body" principle. "If you don't have to step over a dead body every day, nobody does anything about it."
To prevent such accidents, Comp-Sigma conducts quarterly visits to each member company. "On our first visit, we do a safety audit and develop a scorecard of what the company is doing well and what they're doing poorly," says Lawson. Comp-Sigma uses the scorecard as a basis for its quarterly visits, to develop a program customized for the company's needs, he says.
The program was so successful at holding the line on workers' comp losses that Lawson's board of directors asked him to develop a health insurance program using similar principles. He approached Patriot Healthcare about merging his loss-control techniques with Patriot's consumer-driven health plans.
"Whether it's reducing workers' compensation losses or curbing health-care expenses, you're really talking about modifying behavior," says Lawson. "We're training people to live healthier lives."
All this doesn't mean that Patriot wants to be a "big brother," breathing down people's necks. "Our goal is to be the least intrusive health care insurer," says Thomas W. Callahan, president of Patriot Healthcare. He notes that Patriot doesn't require pre-authorizations or referrals with any of its plans. "If a member thinks he or she needs to see a specialist, that's good enough for us. We trust the doctors and their patients to make the right decisions when it comes to their health care."
Financial incentives
To be eligible for the Patriot Healthcare/Comp-Sigma Wellness Program, a company must agree to put at least $200 a year into a health savings account, or HSA, for each of its employees who participate in the wellness program. If a company doesn't have an HSA set up, then the employer can pay $200 to the employee in the form of cash.
This year, D.D. Bean put $600 into employees' HSAs, which they can use to pay for their health care expenses until their deductibles are met.
Other companies provide even more financial incentives, hoping to increase participation in the program. At New England Wood Pellet, employees get $350 in their HSAs simply for filling out the online health risk assessment. They can earn more HSA contributions by having their blood work done ($50), participating in exercise programs ($50 per quarter), attending a smoking cessation program ($200, even if they don't actually quit smoking), and so on — up to $800 in each employee's HSA account.
Companies also are free to develop their own incentive programs beyond contributing to an employee's HSA. At D.D. Bean, employees earn points for meeting their health objectives. If they get 100 points in a quarter, their name is entered in a drawing for gift certificates to local stores or restaurants.
Employees aren't the only ones who receive financial incentives under the Patriot/Comp-Sigma program. Along with receiving overall lower premiums on Patriot's consumer-driven health plans, companies that participate in the wellness program receive an additional 2 percent discount off the insurance premium. Patriot encourages the companies to contribute some of their premium savings into their employees' Health Savings Accounts to help them cover their healthcare expenses.
Lawson estimates that 30 to 40 percent of the employees at participating companies have enrolled in the wellness program. "That's frankly more than we thought we'd get," he says, and the figure is growing as word gets out.