Job Corps Center taking shape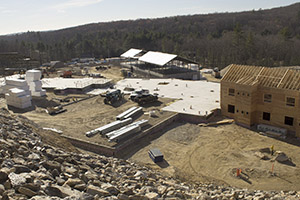 Construction of the long anticipated new Job Corps Center on Dunbarton Road in Manchester is progressing on schedule, reports Eckman Construction, general contractor for the project.
Nine acres of the 19-acre site has been cleared, over 90,000 cubic yards of ledge blasted, and the campus buildings — dormitories, a classroom building, recreation facility, dining, a wellness/administration building and a gatehouse – are under construction.
The project is scheduled for completion in early 2015.