Jewett completes new Sig Sauer HQ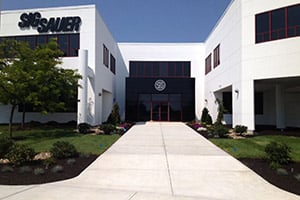 Work has been completed on the new 57,000-square-foot corporate headquarters of gun manufacturer Sig Sauer Inc. at the Pease International Tradeport in Newington.
The renovation and fit-up, designed by Nutec Corp. of York, Pa. and built by Jewett Construction Company of Raymond, included both exterior work as well as extensive interior renovations to provide for corporate offices and production facilities.
The project included repairing and refinishing the exterior EIFS, constructing a new exterior vestibule with black ACM, new sidewalks and landscaping. Interior renovations included selective demolition, the construction of a new, two-story foyer/reception area featuring the Sig Sauer insignia, a glass-railed balcony, a 50-foot gypsum and tile feature wall and tile floor.
A product room was also completed. It displays a selection of the company's firearms and accessories, as well as touch-screen electronics for viewing company videos.
The building also includes production areas, a new, state-of-the art fitness room, locker rooms, meeting rooms, training rooms, classrooms and a catered employee cafeteria.
The executive offices are fitted with custom cherry woodwork and flooring of ceramic tile and carpet, off of which is a glass-enclosed, structural steel viewing mezzanine that overlooks the production area—one constructed by Jewett's Metal Buildings and Steel Erectors division. Lighting throughout is a combination of recessed and LED fixtures.