It's all about relationships at F.L. Merrill Construction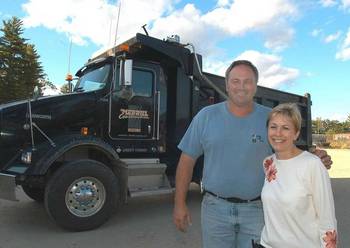 Frank Merrill has always believed in setting goals, some, like the construction of his first Chichester log home, have been realized according to his anticipated timeline. Others, like the birth of his own company, came earlier than even he expected.
But 16 years ago, when changes in the construction industry left him questioning his employment security, Merrill knew the time had come. He bought his first piece of construction equipment and F.L. Merrill Construction Inc. was formed.
Today, 55 pieces of heavy equipment, 16 giant dump trucks and an assortment of utility trucks sit outside F.L. Merrill's headquarters on Sand Road in Pembroke. Merrill and Sue – his wife and business partner – now employ more than 60 people, including their 19-year-old daughter Kara. Son Brad, 17, is a senior at Pembroke Academy.
An excavation company, F.L. Merrill creates roads and prepares sites for building construction and the installation of utilities, sidewalks and parking areas, among other projects.
"We excavate, we dig dirt," said Merrill, a veteran of the Marines and Granite State native.
Both Merrills credit the success of their business to a strong work ethic shared by their employees.
"We'll work whatever hours it'll take to get the job done in the time we have, on deadline," said Merrill who also owns Pembroke Sand and Gravel.
Because the couple demonstrates the same sense of commitment to their employees and the communities they live and work in, they have been recognized as this month's Not Your Typical Business Award recipient by Citizens Bank and New Hampshire Business Review.
"They've grown their bottom line so much," said Laurie Watts, Citizens' business banking officer, who has worked with the Merrills for the past three years. "They've gotten big because they do a great job. Their employees stay a long time because Frank and Sue are easy to work for. They are also very supportive of community programs, especially those having to do with children."
The state and municipalities account for nearly 60 percent of the company's contracts, according to Merrill. Large retail operations – like the Lowe's project currently under way on Fort Eddy Road in Concord – make up the remaining 40 percent.
For Merrill, living up to his commitment to deliver quality service in a timely fashion is critical to the company's continued success.
"Delivering a job well done and on time is important," said Merrill. "I know that when these people have another job they will pick us, even if we're not the low bid because they know we'll deliver on time."
Mark Ingram of R.L. Spencer Construction, a general contracting company in Manlius, N.Y., who has worked on multiple highway and site development projects in southern, central and northern New Hampshire with F.L. Merrill, agrees.
"We've built a relationship with F. L. Merrill Construction based on the fact that they've met strict deadlines under very extreme conditions allowing our company to achieve our goals time and time again," Ingram said. "Not to mention their reputation with town, state and city officials."
Ingram said his firm has come to depend on the high level of service and multiple levels of resources F.L. Merrill has been able to deliver within the industry.
"They continue to demonstrate the expertise needed to help solve difficult site issues in a most cost-effective way," he said.
Caring for communities
Frank and Sue Merrill both realize their ability to provide their customers with the service they've come to expect hinges to a great extent on their employees — a group the couple considers extended family.
"We're very much family to these guys," Merrill said. "We go to their weddings, their cookouts, they come to ours. We bought a camp up north in an area where eight of our people already have camps. We do a lot together."
Many of the Merrills' employees have been with the company for years, including Walter Joy who joined shortly after the company began.
"They're just nice people to work for," said Joy, who has worked at everything from manning a shovel to managing job sites. "They do a lot for their people, and that makes working here nice."
With their home in Chichester, their headquarters in Pembroke, and jobs anywhere in a 60-mile radius, the Merrills consider a number of communities home and do what they can to support them – especially when it benefits area children.
Indicative of this support are a dozen wooden plaques hanging on one wall of the Pembroke office, boasting photos of young ballplayers from towns like Pembroke, Pittsfield, Epsom and Deerfield, all wearing shirts with the F.L. Merrill name.
"We know what it's like to have to go to people for money to buy uniforms, so when they come to us we're happy to support them," said Sue, who also works with the nonprofit organizations Field of Dreams and the National Association of Women in Construction.
In addition, F.L. Merrill crews can often be found at community construction projects. The company helped build two new ballfields in Concord and has donated loads of loam to countless other projects.
Following last year's floods, F.L. Merrill was there supplying tons of dirt to the town of Nottingham. The firm also recruited subcontractors to help out with the many building projects.
"This is our home," Sue Merrill said. "And you want to do what you can to help out."
The Citizens Bank Not Your Typical Business Award is presented in partnership with New Hampshire Business Review. Businesses are selected each month based on the company's commitment to community, colleagues and customers. Visit Citizens Bank online at www.citizensbank.com.