Is district heating the North Country's answer?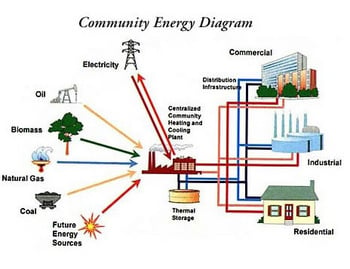 Energy costs are on everyone's minds these days. And in Coos County, hard-hit with job losses and a tough economic climate, heating costs may be the proverbial budget-breaking straw for residents and businesses.
Rick DeMark, director of North Country Resource Conservation and Development (RC&D), is working on a solution: district heating systems for Groveton, Berlin and Colebrook. RC&D is funded by the U.S. Department of Agriculture to promote sustainable community development.
District heating systems are basically huge multi-building radiator systems. A central heat plant sends hot water or steam out via insulated pipes to commercial buildings and homes. Plants can burn wood, oil, propane, garbage or switchgrass biofuel, or use solar power. They can stand alone, co-generate electricity or feed off a manufacturing process. Energy savings can be as high as 40 percent.
"We can't afford to waste heat," DeMark said, adding that RC&D "has been talking about this for 10 years."
In 1998, RC&D commissioned a study regarding using waste heat from biomass power plants. About 70 percent of generated heat is unused, released to the atmosphere through cooling towers. The concept is to recapture that waste and use it for other manufacturing processes or heat.
During the recent Coos County Action Plan process, DeMark facilitated a committee to look at the county's energy future. At the time, three biomass energy plants and a wind farm were on the table. There were hopes for a Groveton "energy park" to manufacture biofuel and generate electricity and heat through burning biomass.
Rapidly escalating energy costs were another concern. Figuring out how to maximize the county's resources to the benefit of its businesses and citizens became the group's mission.
Can it work?
The Coos plan and related projects are underwritten by a "Sudden and Severe Economic Impact" grant from the Economic Development Administration, obtained due to job loss from closure of three paper and pulp mills.
Using EDA funds, RC&D hired Horizons Engineering LLC of Littleton and Ramboll Denmark A/S, a Danish firm, to prepare a district heating feasibility study for Groveton.
Ramboll has developed software that uses building size, energy use and heating system information to calculate system design.
Some 60 percent of Danish households are connected to district heating systems. In Iceland, 90 percent of homes are connected.
After obtaining his doctorate in studying district heating systems, Dr. Morris Pierce, energy manager for the University of Rochester in Rochester, N.Y., has become a leading advocate of the idea. After reading about the Groveton project, he contacted DeMark and has been a resource ever since.
Pierce noted that Denmark took only a decade to go through the conversion.
According to the Department of Energy's 2003 survey, 1 percent of commercial buildings in the United States use district heating. Educational institutions are the largest users of district heating systems — the University of New Hampshire has one. Others are commercial enterprises, including Concord Steam Corp. in Concord, which serves over 100 commercial customers in the downtown area. New York and St. Paul, Minn., are among the large cities that serve households as well as businesses through district heating.
"We've had our skeptics," Peter Riviere, executive director of Coos Economic Development, a facilitator of the Coos plan. Riviere thinks district heating can work, especially if a small-scale biomass power plant project comes to fruition. The proposed Tamarack 100-megawatt project in Groveton fell apart due to the need for greater transmission line capacity, which would cost millions to upgrade.
A smaller plant, such as Clean Power's 30-megawatt biomass plant proposed for Berlin, would optimize the resource, according to Riviere. Waste heat generated could be piped to nearby homes and businesses.
The Groveton study looked at a heat-only hot water system located at the Wausau Paper site. The initial phases of the project included hooking up residences and businesses in close proximity, labeled "1A" and "1B." Building the system to cover zone 1 entirely would be about $7 million. Piping would be laid in roadbeds at a depth of 30 inches. Using a $4-per-gallon fuel oil cost and a 20-year payback, energy savings are estimated at 40 percent.
The study also looked at low-grade wood as a fuel source, with an estimated annual consumption of 6,000 tons. With the recent Coos Timber Availability Study showing a possible shortfall of wood, such a relatively low requirement should be reliable, according to DeMark. (Biomass power plants burn hundreds of thousands of tons per year.)
Since the study's release in June 2008, DeMark has been working to identify funding sources. A meeting in November 2008 brought together Pierce, Groveton selectmen and other potential major customers with the Danish Board of District Heating.
The Danish board is traveling throughout New England to discuss the products and services they can offer in building district heating systems. Potential funding sources include federal Farm Bill money and the Tillotson Foundation, a regional charitable organization.