Irish whiskey: the other Celtic spirit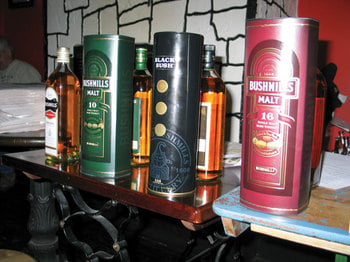 St. Patrick's Day might have been celebrated over a month ago, but the good saint must surely have been smiling upon the 50 of us who gathered for a wee dram of Irish whiskey at the Peddler's Daughter pub in Nashua for our latest Top Shelf Tasting.
There are several differences between Irish whiskey and scotch whisky besides the "e."
Obviously, Irish whiskey is made in Ireland and scotch in Scotland, each with barley from their respective countries, but the primary difference are the use of peat or absence of peat. Irish whiskey does not toast its barley over peat fires, a process that gives scotch its distinctive flavor.
Grain, most often barley, is malted — soaked in warm water to begin sprouting and converting starch into sugars – then dried in kiln-like ovens. The malt is then ground and soaked in water again in a process known as mashing. Sugars are dissolved in the liquid, which is extracted. Yeast is added to this liquid, or wort, to begin fermentation.
The young alcohol is finished at 40 percent alcohol then heads for the distillery. Here, water is boiled in a pot still, which looks something like an enormous Hershey's Kiss. The steam is captured, cooled and turned back into a liquid.
Most scotch whiskies run through this process at least twice. Irish whiskey is distilled a minimum of three times, resulting in a very smooth spirit.
New Irish whiskey is aged in older oaken barrels that previously held another spirit; new barrels will impart their oakiness to the spirit, something stillmasters, in this case, do not want.
Another entire article could focus on the aging process itself, with the type of barrel used, for how long, what it held previously, transferring between different barrels are just some of the complexities involved in this process.
Typically, Irish whiskeys are aged in white oak barrels that held sherry or port.
Kirsten Ininger and Jennifer Brancone from Southern Wine and Spirits of New England were our tasting guides, representing the Bushmills line of Irish whiskeys.
As with scotch, a teaspoon or two of water truly makes the difference between night and day when tasting whiskey, dampening the volatiles and pumping of the volume on the other flavors:
• Bushmills Original ($21.99): The foundation of the Bushmills brand, Bushmills Original is blend of single-malt whiskey and grain whiskeys aged in bourbon barrels resulting in a more delicate and fruity taste. I found the fruit quite apparent in the nose with the flavor being somewhat dry with notes of vanilla.
Jim Townsend of TECHnh in Merrimack said he liked this whiskey's straightforward nature.
"It's not so sweet, and there's not such a bite," he said.
Our hosts at Peddler's Daughter treated us to several delicious appetizers as well as fruit and cheese, and a pasta salad with fresh herbs. The corned beef fritters, fried to a golden brown and served with a delicate sauce were a perfect partner to Bushmills Original.
• Black Bush ($31.99): Single-malt whiskey aged in Oloroso sherry casks is blended with a touch of sweet grain whiskey bringing out this spirit's rich taste. Notes of caramel added to its warmth. This was one of my favorites.
The smoky ham in puff pastry complemented the sweet and character of Black Bush.
• Bushmills 10 Year Old ($37.99): The malty character Irish whiskeys are known for was at the foreground in this single malt whiskey. Aged 10 years in bourbon casks, it was smooth with notes of honey and spice.
Chip Underhill, a Merrimack-based account executive with Broadview Networks, liked its smooth taste.
• Bushmills 16 Year Old ($62.99): Another single malt, this 16 Year Old was my favorite of the night. Aged in bourbon and sherry barrels and finished in port casks, this whiskey was incredibly smooth, with vanilla notes in the nose and rich nutty flavors of port.
Lafe Low, an editor at Redmond magazine, and Nixon Peabody attorney Peter Tamposi said they both enjoyed this whiskey.
• Bushmills 21 Year Old ($94.99): Deeply complex, there is a lot happening in this whiskey. Both sweet and spicy, mellow and herbaceous, the 21 Year Old is aged in bourbon and sherry barrels and is finished in Madeira casks adding a woodsy quality with notes of chocolate.
Terry Williams, publisher of The Telegraph in Nashua, and Scott Cote of Southern New Hampshire Medical Center, said they liked this whiskey the best.
The Bushmills 21 added a delightfully balanced counterpoint to the tender morsels of beef with mushrooms in a puff pastry topped with goat cheese.