Internship program helps students and BAE Systems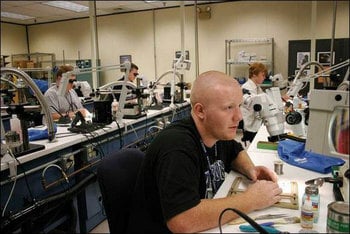 While this summer their classmates are bagging groceries at a supermarket or flipping greasy burgers at a fast-food chain, Souhegan High School junior Timmy Luter and several other Nashua area high school students will be working full time for BAE Systems, a global company that develops defense systems for the military.
Luter said he was drawn to his high-tech internship at BAE Systems in Nashua when he first heard the global defense company's slogan: "We protect those who protect us."
The close to $11-an-hour pay and promise of free college tuition didn't hurt, either.
"It's been fantastic," said the 18-year-old, peering into a microscope as he soldered an electrical chip roughly the size of the tip of a sharpened pencil onto a circuit board. "You're helping to save lives. And at the same time, I don't know anyone else in my high school who already has a summer job lined up that's going to help them pay for college."
The students graduated in May from BAE Systems' first four-month, eight-hour-a-week internship program and started their full-time jobs in June.
Besides competitive pay, BAE offers its employees the chance for free college tuition. Luter said he hopes to use the program to pay for his studies in either engineering or business management after he graduates high school.
For Alvirne High School senior Tony Couris, the internship at BAE was an opportunity to join the family business while also serving his country.
"I wanted to join the Army, but my mom said it was too dangerous. So I figured this was the next best thing," said Couris, whose grandmother, Barbara, also works at BAE Systems.
Luter and Couris learned how to hand-attach components to circuit boards and apply solder to allow electricity to conduct between the board and the circuits.
"It's not like banging nails into a block of wood, that's for sure," said Paul Margolin, the project coordinator of the BAE manufacturing internship program. "This work requires a high level of precision."
Training coordinator Darlene Rheaume said BAE Systems' standards for soldering are "much more stringent" than those applied at other high-tech companies.
"They probably wouldn't be able to get this kind of training elsewhere," she said. "And this training applies to anything within the electronics environment, so this is a skill they could use at other companies and in other fields."
The components Luter and Couris will work on could eventually make their way into BAE System's most advanced technology, like the F-22 stealth fighter aircraft or a countermeasure warning system that protects aircrafts from infrared-guided missiles.
To recruit for the first year of the internship program, BAE Systems made presentations to students at several area high schools. Eventually the company received 16 applications and chose seven students.
Margolin said BAE Systems is tapping into the local high schools to recruit young workers to replace their aging work force.
"We expect to see quite a lot of employee retirements over the next five years," said Margolin. "We need a good source of skilled workers, so if we can find young people in the local high schools who have any level of interest in the field, hopefully we can develop them into productive employees."
Alvirne High School seniors Tyler Ripaldi and Adam Stenzel also participated in the internship program, working in product control and machinery.
"They all loved the internship," said Alvirne High School Vocational Coordinator Ann Merrill. "And BAE was pleased with the students."
— RYAN J. HALLIDAY/The Telegraph