International Association of Privacy Professionals CEO to head UNH forum
Digital privacy expert Trevor Hughes will speak in Durham on Sept. 13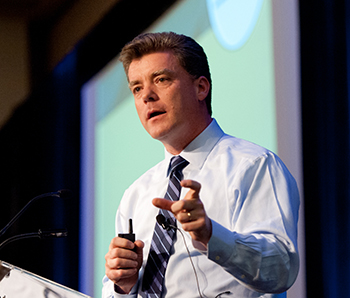 Trevor Hughes, president and CEO of the International Association of Privacy Professionals, an association of professionals seeking to help their organizations successfully protect their data and manage cybersecurity risks, will head UNH's CEO Forum on Sept. 13.
The CEO Forum is an outreach program of the Peter T. Paul College of Business and Economics, created to serve CEOs, CFOs, presidents and business owners in northern New England. The Forum provides its members with opportunities to meet and exchange ideas with their peers in business and industry in an informal setting. Beginning with networking time over a full breakfast, each event features a presentation by a corporate leader on a topic of current interest.
Hughes will speak at UNH's Huddleston Hall in Durham, from 8 a.m. to 10 a.m. Hughes is widely recognized as a leading privacy expert, appearing at SXSW, RSA and other privacy and technology events. He has contributed to media outlets such as the New York Times, TechCrunch and WIRED and has provided testimony on issues of privacy, surveillance and privacy-sensitive technologies before the U.S. Congress, the U.S. Federal Trade Commission, British Parliament and more.
At the Forum, Hughes will share both a glimpse into the state of affairs of the privacy industry and how the IAPP has become a leader in this dynamic field.
Tickets for the event are $59, including breakfast. Attendees are encouraged to RSVP quickly as space is limited. Register here or email cfb.ceo@unh.edu.