Interfaith group opens day center for homeless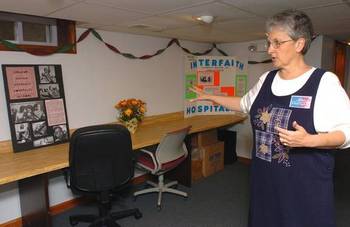 NASHUA – A warm breeze pushed the temperature close to 70 on Sunday afternoon as officials of the Greater Nashua Interfaith Hospitality Network and dozens of visitors cut a ribbon and broke bread to officially open a new day center for the area's homeless in the South End.
With November just hours away, everyone knew it wouldn't be long before chilled, down-on-their-luck families without a home of their own would be trudging to the two-story, raised-ranch-style house seeking shelter from the cold as well as from the storm they call daily life.
The center, at 93 Daniel Webster Highway, just south of West Glenwood Street, is the culmination of three years of effort that began when the network received its nonprofit status, said director Laurie Skibba.
"Opening a day center became our goal, and today we celebrate," she said.
The network, made up of eight "host locations" that shelter and feed the homeless at various houses of worship in the area, sought to transform the former Novitiate building on the Presentation of Mary Academy property in Hudson into their day center earlier this year, but opposition from parents worried that clients would pose a danger to their children who attend school there put that plan on hold.
But, Skibba said, the organization's hopes to eventually move into the PMA building are alive and well.
"This location is our temporary model . . . if things go well for us, we're hoping (the former Novitiate building) will be our fixed location by next summer," she said.
In the meantime, the Daniel Webster Highway center will provide financially struggling homeless families with temporary shelter, food, and resources to help them get back on their feet again, Skibba said. Clients who are referred there will face a stringent intake process, including random drug and alcohol testing and criminal checks.
"It's for the safety of our guests as well as the staff," she said. "We must be able to guaranteesafety for everyone."
The center can accommodate up to 14 people at a time. Clients must be a family, including those headed by a single parent. All children must be younger than 18.
The upper level houses a kitchen, community living room and client rooms, while offices and ample counter space for clients to use phones and research jobs or apartments are downstairs.
Network Vice President Bob Sparks served as a tour guide for the afternoon open house, which was sandwiched around a brief speaking program, during which President Helen Gutekunst and United Way of Greater Nashua representative Heather Hemdal shared ribbon-cutting honors.
"Our clients will be referred here from our host sites as well as other social-service agencies in the area," he said. "It will be a place where they can have an address, a phone number, and get mail and calls."
For Linda Jeynes, the network's public relations head, faith was the keyword of the day.
"We're taking a big leap of faith today, but I've seen and I know the people who will be working with us on this project so I know we can do it," she said.
Surely, the mere utterance of the word "faith" these days is license for a Boston Red Sox reference, and mayoral aide Mark Sousa, representing Mayor Bernie Streeter, seized the opportunity.
"There are two words that come to mind when I look back at what the Red Sox have done: 'We believe.' And as I speak to you today on behalf of Mayor Streeter, I know those same words certainly apply to what you've succeeded in doing here," Sousa said.
The Rev. Jeff Evans of Nashua's First Church, an Interfaith Network member, presented a $25,000 check to Skibba, a gift, he said, to the network from what money the church raised as part of its capital fund drive.
"We hope this helps to eventually end homelessness in the greater Nashua community," Evans said.
Bringing the community together in God's name was the message brought by the Rev. Mark Jackson of network member First Baptist Church.
"One of the things with which we, as God's people, are charged is to act as God's people not only in our houses of worship but out in the world, too," Jackson said.
"Most of us go home to a warm place and plenty of food, but as we know, there are people in our communities who go home to a car or to a relative's house and sleep in the garage, maybe having their children farmed out to stay the night someplace else.
"I believe we can make a difference, help families stay together and give them a chance," Jackson said.
"God blesses us because we do the right things for the right reasons."