Insurance industry legend still packs a punch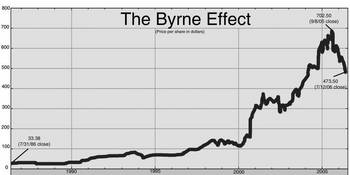 Jack Byrne sat at his kitchen table in his Hanover home discussing how much he might have personally lost as a result of Hurricane Katrina.
"I lost a lot of money. My wife lost a lot of money. I wouldn't be surprised if we lost $100 million. So I am mad at all of that," he said calmly.
But he didn't sound mad.
Byrne, who returned in May as chairman of the board of the $19 billion White Mountains Insurance Group, doesn't get very upset when talking about a mere $100 million. His company just took an unanticipated loss of twice that amount, and he shrugged that off as well.
"Two hundred million is not a killer. We are a company built to withstand stuff like that."
Indeed, it's only after he reaches the $200 million mark that he even looks to outside investors, often his good friend, the multibillionaire investor and financial guru Warren Buffett, who once put together a $600 million dollar deal in a 40-second phone call. Now THAT impressed Byrne.
Byrne took a few hours earlier this month to sit down and talk to the Business Review about a legendary career in the insurance industry that started before the end of World War II.
"I have been in the business world since 1943. That's 63 years, and I always run the company as if I owned 100 percent of it myself," he said.
At White Mountains, where Byrne reigned on and off (mainly on) since 1985, the stock climbed from $25 a share to a peak at $700 in the fall of last year. (It now is selling for something less than $500 a share.) Not bad for a holding company "that doesn't actually operate anything" and that worked out of a three-to-five-person office in Lebanon, N.H., until it moved to New Jersey several months ago.
Yet it is a holding company with more than 100 insurance companies under its umbrella. One whole operation in Connecticut simply manages the company's cash: some $46 billion.
Before White Mountains, Byrne headed Fireman's Fund, overseeing at the time what was the largest initial public offering ever. Before Fireman's there was Geico, which was in "a bit of a pickle," in his words, selling for nearly $2 a share. By the time he left, it was selling at $400.
Geico is now owned by Buffett, who once called Byrne the "Babe Ruth" of insurance.
And what are Byrne's thoughts about Buffett?
"It's like saying, 'What is the life story of God?'," he said and then gropes for more mundane accolades like the "most intelligent man I ever met."
Anatomy of a giant
Byrne didn't start off hobnobbing with Buffett and throwing hundreds of millions of dollars around. He started running office errands for his father, who owned a small insurance agency in New Jersey, and while at Rutgers University was working as an actuarial assistant for Travelers. He worked his way up from Travelers until he was in line for the top slot. He didn't get it.
"And I did a really stupid thing. I quit," he said. "I just got very mad that they had chosen someone else. When I look back on it, it was so silly."
At Geico, he inherited a mess. The company was selling loads of insurance to gain market share, but it was priced so low that it wasn't making money.
That ran counter to Byrne's past and present philosophy of running a company to build "intrinsic business value."
At Geico, he fired about half the employees, but those who were left received Geico stock. With the stock soaring to hundreds of times its original value, the workers had "nice retirement nest eggs."
Fireman's was owned by American Express, which was having trouble taking it public. Byrne and Buffett had no such problem, and they sold off the company for $3 billion in 1991. Byrne kept the holding company, renamed it Fund America, and it later morphed into White Mountains.
Moving to Norwich, Vt., with his three person staff – himself, an accountant and an attorney — he started up the company from scratch. While the skeleton staff remains — first relocated to New Hampshire, and recently New Jersey (the company officially resides in Bermuda for tax purposes) — White Mountains now holds roughly 100 insurance companies employing 8,000 workers.
"It's a strange company to own, and we never encouraged a wide public ownership," said Byrne. His family owns about 16 percent of the company, Buffett owns 17 or 18 percent, and one large institution, Franklin Mutual Shares, owns about 19 percent. About four-fifths of the other half is owned by institutional investors, with about 10 percent owned by individuals.
Continuing Byrne's "intrinsic business value" philosophy, White Mountains ignored quarterly earnings and some other conventional measures of value.
"One of the consequences if you do that is you don't try to appeal to the brokerage house in Wall Street, and you don't try to appeal to the analysts," he said.
Few analysts paid attention, but few had to. With the stock price running close to $500 a pop, there aren't that many shareholders.
"The kind of clientele I want is long term, value-oriented investors who will hold large amounts of the stock and hold it forever," he said.
Terrible results
Byrne's "last act" – and in retrospect perhaps his greatest mistake – was made shortly after he stepped down as CEO and board chairman in 2001. That was creating a third-party vehicle – known as a sidecar — to take the risk for catastrophic experience. The demand for such insurance skyrocketed after the terrorist attacks of September 11th.
While Folksamerica, one of White Mountain's holdings, did dabble in catastrophe, Byrne didn't want to saddle it with all that risk. So it took about a quarter of the business and handed off the rest, capturing some income through fees and commission.
Steve Fass (the company's current CEO) came to Byrne with the idea, "and I thought it sounded great," he said. "In theory, it was a lovely extension of the business."
So White Mountains set up Olympus Reinsurance Ltd., and had no trouble finding investors. Byrne expected to stay at the Waldorf Towers over a week to raise $1.5 billion. He collected it in a few hours.
"It was just a huge feeding frenzy," he said.
While most of the money was institutional, at least $50 million of the initial funding was chipped in by Byrne, his friends and his family, he said.
But "writing catastrophe insurance is a bit like stepping up to the roulette table," he said. "It's a business for very savvy, bold people, and its also a business you can have good results for a bunch of years and then you have a terrible results."
After three good years came Katrina and the terrible result. Then it became a "business I don't like very much anymore."
Katrina, and the other massive hurricanes at the time, constituted a "perfect storm" as far as Olympus was concerned, with heavy investment in Gulf commercial properties.
Even properties that withstood the hurricane put in claims for business interruption and workers' compensation, augmented by the skyrocketing price of oil. It was the late oil claims that "wiped out" the Olympus sidecar, leaving original investors like Byrne holding stock worth about 3 cents on the dollar. White Mountains bailed out more recent investors with a nearly $200 million infusion into Folksamerica.
The Overstock move
Byrne arrived back as White Mountains' board chairman just in time to deal with the Folksamerica mess. He had stepped down in 2001 for a number of reasons, including a successful battle against prostate cancer. He also was spending more time at his Utah retirement home visiting his grandchildren and helping out his son's company, the online discount retailer Overstock.com.
When Patrick Byrne first came to his father to suggest spending $1.5 million to buy a company that sold liquidated bulk products on the Internet, he suggested that instead he pile the money "up in Dartmouth Square here at the college and light it, let the freshman dance around it and have some fun. That's the worst idea I ever heard."
But Dad not only came on board, he eventually became chairman of the board. Patrick, like his father, is not a reticent man, and he was soon in a major battle with analysts and short-sellers and the Securities and Exchange Commission, which he maintained were trying to destroy his company.
"I don't agree with all the flamboyant statements and reckless statements he has been making," Jack Byrne said of his son. "I have to admire he sees evil and he's not going to stop … but it really has nothing do with Overstock."
So Byrne – citing these differences — stepped down to become Overstock's deputy chairman. Meanwhile Byrne's successor at White Mountains, George Gillespie, stepped down as chairman and Byrne was called back out of retirement to help Fass take the reins.
It was just a coincidence that he was back at White Mountains in time to correct the $200 million error related to the hurricane damage reserves. While Byrne didn't set up the reserves, he was glad he was back to sort it all out because as a former actuary "this is my stock in trade" and because he will be able to settle down the three bond rating agencies, two which have been "fair" and one which was "alarmed."
Times have changed
Byrne said, the company's internal investigation has so far shown that there was nothing that White Mountains could have done differently to prepare it for a storm of Katrina's magnitude.
But the sidecar arrangement has raised the eyebrows of some in the insurance industry trade press. The question is whether regulators are going to look into insurance companies that outsource risks via third-party companies, and the various ties between those companies and White Mountains. Already, the state is looking into similar practices at the international insurance giant ING.
But Byrne said White Mountains has nothing to fear.
"Everything we have done is wide open, and anybody can look at it if they want to. There has been no impropriety."
What was proper years ago, however, might not be so proper practice today, he said.
"We ran best when I had a small board of friends who were all interconnected and we made billions for our owners out of whole cloth," he said. "Now you can't have a group of close savvy friends that all know what you are trying to do. You have to open up your board in the interest of sunshine and good corporate governance."
This pendulum swing that is "turning boards into public libraries" will cost corporate America 2 percent of its corporate return, he said. Already, public companies are going private just to avoid the increased government scrutiny.
So is Byrne tempted to throw his billions into the political arena to change the system? Well, if he did, it would not be to back himself.
"I'm too old and grouchy and cranky to have to sell my point of view to anybody," he said.