InnSeason building new luxury resort in Lincoln
300,000-square-foot RiverWalk at Loon to feature 170 units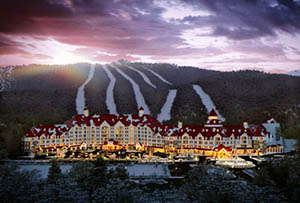 Construction has begun on RiverWalk at Loon Mountain, a new luxury resort, hospitality company InnSeason's third resort in Lincoln and what its says is the largest investment in a resort in the North Country to date.
The resort will be located at the base of the South Peak of Loon Mountain on the banks of the Pemigewasset River. Broken up into three phases, the 145,000-square-foot, 80-unit first phase of the development is set to be completed by January 2016. The project will total 300,000 square feet and 170 units.
According to InnSeason, RiverWalk will bring back the feel of the "grand hotels" of the early 20th century, providing guests with a luxury getaway.
The resort will include a full-service spa, fitness center, restaurant and lounge, game room, heated all season pool, one-of-a-kind skating rink and personal storage lockers.
"We are creating a small village at the center of town, which will feature amenities unrivalled by anything else that exists in New England," said Dennis Ducharme, president of InnSeason. "RiverWalk at Loon Mountain will bring an incredible vacation experience to skiers, vacation enthusiasts and residents of Lincoln."