Innovations in health care focus of N.H. BIA luncheon
April 17 event will feature a look at pioneering changes in delivery of care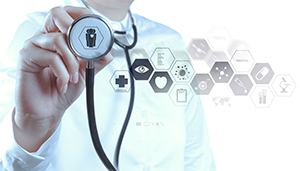 The Business and Industry Association, in partnership with the New Hampshire Hospital Association and New Hampshire Medical Society, will be holding a luncheon event examining recent innovations and initiatives in health care that hold the potential for improving quality and lowering cost.
"Innovations in Health Care: Emerging Efforts to Deliver Quality, Affordable Care" will be held from 11:30 a.m. to 1:30 p.m. Thursday, April 17, at the Radisson Hotel, Manchester.
Sponsored by Elliot Health Systems and Dartmouth-Hitchcock Medical Center, the event will feature a panel of experts from three organizations that are at the forefront of efforts to transform health care and find new ways to deliver quality care for lower cost.
Featured presenters include:
• Dr. Rick Phelps, president of Elliot Health System, who will discuss Elliot's new bundled service offering available to private payers. Elliot CareBundles involve three common medical procedures – colonoscopy, hernia repair and knee arthroscopy – offered for one, all-inclusive low price. The bundled price includes all hospital services associated with that procedure – physician, lab, imaging and anesthesia.
• Dr. Sarah Pletcher, medical director of the Center for Telehealth at Dartmouth-Hitchcock Medical Center, who will discuss how Dartmouth continues to deliver quality health care for lower cost through the use of advanced technology.
• Heather Staples Lavoie, president of Geneia, a health care innovations company, who will discuss a number of initiatives in New Hampshire and across the country that are driving innovation.
"The cost of health care and health insurance remains a top, if not the top, challenge for business owners and managers in New Hampshire," said BIA President Jim Roche. "We hope this event will shed some light on efforts to reform health care and attempt to bend the cost curve. We are fortunate to have three highly knowledgeable and engaged speakers offer their thoughts and expertise on ways leading organizations are tackling these issues."
Cost to attend is $35 for BIA and Capitol Connect members and members of partnering organizations, and $49 for others.
Register online at BIAofNH.com/events or call 603-224-5388, ext. 116 for more information.