Injured soldier gets help from mom to reach Italy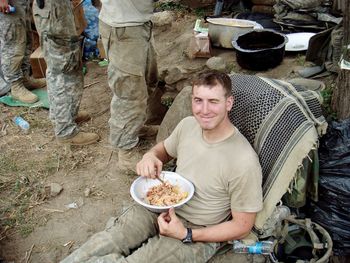 Ryan Pitts made friends in his hometown. They are friends that come to his home for Christmas, friends the Mont Vernon native considers close.
But nothing, he said, compares to the relationship formed among troops in battle.
"It's kind of different when you fought for your lives together," he said.
Pitts, who is part of Battalion 2-503 in the 173 Airborne Brigade, was one of 15 soldiers injured after being attacked by at least 200 insurgents in Wanat, Afghanistan, on July 13. Nine soldiers died in the battle, which was called the "the deadliest attack on U.S. troops in Afghanistan in the last three years," by Stars and Stripes, a military newspaper.
Pitts, 22, has not seen many of the soldiers he fought with since he was brought to Walter Reed Army Medical Center in Washington, D.C. Now he can't wait to get to Vincenza, Italy, where he was stationed before deploying to Afghanistan. He wants to see his fellow troops there during several events being held to welcome the unit home this month.
He wasn't able to go to services for the guys that were lost in the battle, he said. There are many events, such as a memorial ceremony and soldier appreciation day that he is looking forward to attending.
"I want to be there," he said. "Just seeing each other is going to be a big deal." His mother, Kelly MacCorquodale, knows what a big deal it will be for her son and the other members of the unit rehabbing in the states.
She has seen her son interact with some of the other injured soldiers, including one who was injured going to help Pitts during the fight. Many of the guys, according to MacCorquodale, are single, and have no families to welcome them home in the states. She and others are raising money to help all of the soldiers in the group fly to Italy to attend the events with their unit.
"We plan on getting these guys there by hook or crook," she said. "They are such deserving young men. It is so important."
The group still needs about $10,000 to pay for the trip. They originally needed about $20,000 and have raised half of that amount.
They have also found a travel agent with ties to the 173rd who agreed to "go out on a limb" and book the remaining tickets with the provision that they be paid in full in 10-14 days, MacCorquodale said.
She spoke by phone from the hospital with her son. She has not come home to Mont Vernon since Pitts was flown there for treatment and it has been hard for her and her husband, Craig, to watch their son in pain.
MacCorquodale has been keeping an online journal about the experience. On it she writes, "That has been one of the most difficult things for Craig and I – watching your child be in agony is a horrible thing . . . .we would do anything to make it better if we only could."
When Pitts was injured he had only 12 days before he was to start his trip home. Some of the other guys had only seven days, he added.
Pitts almost lost his leg after the battle. "I could use my left leg a little. I could not use the right leg at all," he said. He had shrapnel lodged in both legs, as well as his right arm.
After being treated for several days he was told by doctors he would keep his leg.
" 'I don't care about anything else you have to say,' " Pitts said he told the doctor when he heard those words. "Everything after that seemed kind of trivial."
Now Pitts is walking with crutches and hoping he will not have permanent nerve damage.
Pitts, a 2003 Souhegan High School graduate, and his mother are getting ready to fly to Italy today.
They will be joined by the other injured soldiers with hopes that enough money will be raised to pay for their tickets.
So far people have been very generous, MacCorquodale said. They have received donations from all over the country and New Englanders have been very generous, she said.
"We know that together we can do this. And as we all know, it's really the least we can do to thank these soldiers for all they have given on our behalf. Just because they are home based in Vicenza, Italy, and have no American community to provide them a proper welcome home they should not 'slip through the cracks'. They deserve and need to be reunited for these events," she wrote in her online journal.
The family is also very grateful for the donations that have been made.
"Every check that we receive, whether it is for $10 or $5,000, Ryan comments that he didn't think Americans cared that much and he is so moved. I don't have the words to express our gratitude and I am brought to tears on a daily basis by your generosity. Thank you, thank you, thank you," she wrote.