IndustryMD wins TechOut's $50k top prize
AlignRevenue, Slipstream take home second- and third-place honors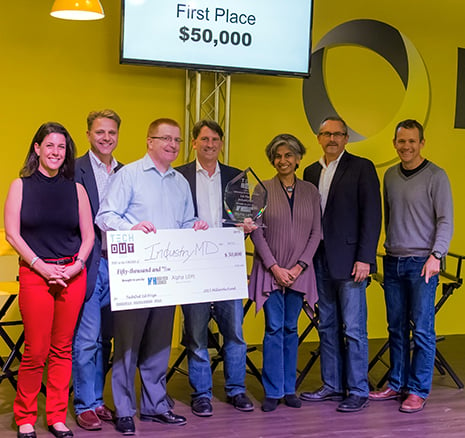 New Hampshire startup IndustryMD took home the $50,000 top prize in the fourth annual TechOut competition held Wednesday night at Dyn in Manchester.
Five companies vied for a combined $100,00 in funding at the competition. AlignRevenue, which won $30,000, and Slipstream Music Player, which walked away with $20,000, were the other monetary award winners.
First- and second-place prizes were determined by a panel of judges composed of business experts, entrepreneurs and venture investors; the third-place slot was determined solely by the evening's audience of more than 200 people.
"We're so fond of TechOut because of the energy it brings to the entire startup community and the opportunity it brings to not only the winners, but all involved in the process of pitching, judging, learning and innovating," said Matt Cookson, executive director of the NH High Tech Council, which presented the event with Alpha Loft.
IndustryMD, presented by founder Jim Kelly, is an online search platform that curates and aggregates the solutions of all B2B solution vendors across all industries and connects those solutions with customers.
AlignRevenue, based in Nashua and presented by CEO Ric Pratte and chief marketing officer Margaret Donnelly, is an interactive online meeting platform that engages buyers and automatically updates customer relationship management (CRM) software. It is focused on B2B inside sales.
Slipstream Music Player, based in Barrington, and presented by founder Garrett Cypher, is a group music player and sharing application that lets users and their friends view and play each other's music and vote on what music plays next.
AuthEntry and SalesGoose were also finalists for the 2015 TechOut contest, and presented at the event as well.
TechOut, now in its fourth year, is open to startups that have been in business for fewer than three years, raised less than $250,000 in funding and have less than $250,000 in revenue. It is produced in partnership with Alpha Loft, and has helped nine past winners launch and grow their businesses in the Granite State.
Lead sponsor for the 2015 TechOut competition is Borealis Ventures. Other sponsors are FairPoint Communications, Dyn, Cook Little Rosenblatt Mason, Credit Suisse, Eastern Bank, Dunn, Rush & Co., Entrepreneurs Foundation of NH, Berry Dunn, Hypertherm, TD Bank, Howe, Riley & Howe and NH Business Review.
Judges were: Mark Kaplan of Alpha Loft; Gray Chynoweth of SilverTech; Toral Cowieson of The Internet Society; John Joseph of Data Gravity; and James Key-Wallace of Vested for Growth.