Industries squabble over federal flood insurance bill
Realtors, homebuilders urge Congress to find solution to rising rates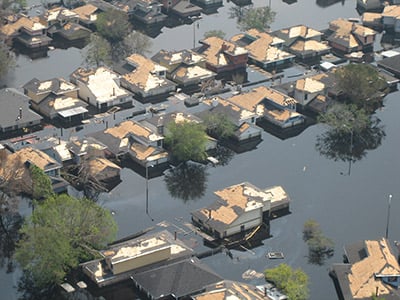 A flood insurance bill making its way to the U.S. Senate has mortgage companies Fannie Mae and Freddie Mac concerned about accepting risk that could increase losses.
The Flood Insurance Market Parity and Modernization Act would clarify existing statues, allowing businesses to accept private flood coverage from surplus lines carriers, shifting the risk of flood loss to the mortgage companies, said Freddie officials.
They're specifically concerned that by turning over authority on private flood insurance to state insurance regulators, they would lose their ability to protect against "inadequate flood insurance coverage on properties that are used as collateral" for loans, Anne Canfield of the Consumer Mortgage Coalition told Insurance Business America.
The bill would also limit Fannie and Freddie's ability to require private flood insurers to be solvent and able to play claims, resulting in high deductible policies with exclusions, and increasing the chance homeowners would lose their policy after a serious flood.
The bill comes in the wake of recent testimony from the National Association of Homebuilders and a warning from the National Association of Realtors, which both foresee extreme rate hikes on flood insurance that would negatively impact homeowners.
"As Congress works to reauthorize the [National Flood Insurance Program] by the September 2017 deadline, it must guard against the exorbitant rate hikes and faulty floodplain delineations that have plagued the program in the past," Randy Noel, second vice chairman of the NAHB told Congress, recalling the problems created when the Biggert-Waters Flood Insurance Reform Act of 2012 created a shift to full-risk rates phased in over four years.
"A neighborhood near my home in St. Charles Parish was fully devalued because of flood insurance rate increases," said Noel. "FEMA wouldn't certify the levee protecting the community because it wasn't maintained by the U.S. Army Corps of Engineers. After Biggert-Waters was enacted, homeowners in that neighborhood were paying between $12,000 and $17,000 annually for flood insurance. The community mailed FEMA their house keys and told FEMA to keep them because the homes were worthless."
In 2014, Congress did pass the Homeowner Flood Insurance Affordability Act, which was designed to reverse the problems created by the Biggert-Waters legislation. But flood insurance rates are still increasing significantly, by about 25 percent each year, said David McKey, 2016 vice chairman of the NAR's Insurance Committee.
An A.M. Best insurance report argued relying only on federally subsidized plans through the National Flood Insurance Program was "insufficient."
"The NFIP was not designed to accommodate major catastrophes," the group said. "However, federal taxpayers are shouldering the substantial burden of the program's deficit, largely attributable to losses from Hurricanes Katrina, Rita and Wilma in 2005, and Superstorm Sandy in 2012."
The report called the passage of the flood insurance legislation, a "big step in the right direction."