In win's afterglow, Sox fans begin to adjust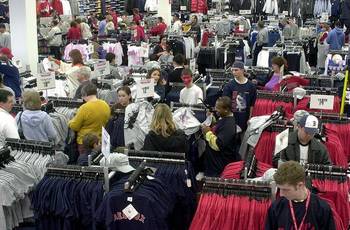 Doomsayers did not have their way. The world did not end.
The mother of all baseball endings has in fact made Red Sox Nation a happier, calmer and more reflective place. An inclusive club, long crowded with desolate souls, the Nation has some newly found good karma to spread far and wide, from the hearts of its citizens and onto every street corner.
"Looking around, I can now smile when I see things about the World Series and baseball," Nashua resident Colin Daly said Thursday in the afterglow.
Yes, sons and daughters of Sam Horn, the Boston Red Sox – the team that plays at prehistoric Fenway Park – triumphantly ended the World Series three games sooner than usual.
Suddenly, everyone wants to listen to loudmouth sports radio, and feels compelled to clear store shelves of every last product emblazoned with anything Sox. Suddenly, everyone wants to buy newspapers again, as the Internet does not offer tangible keepsakes.
From area small-town diners to health club locker rooms, Soxologists playfully questioned Terry Francona's managerial moves. Sox junkies wondered how dispatched sour-grape Nomar Garciaparra feels about all this, if his soccer star wife can provide proper comfort.
But for many reasons, this winning spirit felt less like the frenzy of Beatlemania and more like the subdued warmness that accompanies a family's firstborn. The gift is there for all to see, but the blinding nature of disbelief slightly overshadows the joy.
"The mink coat doesn't quite fit," Wilton storeowner Dick Putnam said. "I've still got the hair shirt on."
Sox fans are discovering that the scars of suffering fade slower than the shadow of a lunar eclipse. The failures of the past no longer matter, but the aftereffects from years of postseason denial make this ultimate victory seem like a trick on the eyes, one more deceit arranged by the Babe.
Nashua Garden restaurant owner Dan Quinn, who hosted a Game 4 viewing party, needs more time not only to put the win into perspective but also to recoup lost sleep. The sports memorabilia on his establishment's walls will always remind him that the victory train had a lengthy and bumpy ride to the station.
"We've got one shining moment to live on, and dozens of heartbreaks," Quinn said.
Some wondered if winning the only trophy that counts – one blemished over the years by Yankees fingerprints – will spoil the fuzzy love we had managed to convey to our losers. They worry that success will breed complacency.
"It's that endless feeling of desperation, wanting to win the series someday," said Milford resident Julie Whitcomb. "It's almost disappointing now. We don't have the Curse to blame anymore. It will make being a Red Sox fan the same as anything else."
Others entertained these unusual but sensible thoughts, yet they decided by breakfast to walk on air for at least one day, or maybe one winter.
Thomas Price, a city of Nashua employee, unloaded heavy blue trash bins with zest and vigor.
"We said all along we were going to run through today, get the job done and get ready for a celebration," he said.
Bob Hilderbrand, pouring a mocha latte at Santos Dumont coffee shop in Milford, boldly looked ahead. "There's more in the future. There will be four more before 2018," he said, playing on the Sox' early history.
One fan, Alicia Hudon, wants this high moment to transfer to her personal life. "The Red Sox have paid off for us fans; hopefully it will pay off for us," she said of her relationship with boyfriend Colin Daly, the one who can now smile at all things baseball.
The win also allowed many longtime fans to reminisce and to connect this celebration with the tender moments of childhood.
Attorney Peter Goldsmith watched the Sox falter in last year's playoffs against the Yankees, the last bit of baseball he shared with his dad, Paul, who died a month later. His father was a Red Sox prospect who once pitched against the great Satchel Paige at Holman Stadium.
"It's a life connecting thing," Goldsmith said of the local nine. "It's a special thing each of us has."
His law partner, Kent Barker, made one of those connections with his 18-year-old son Michael, who is attending College of the Holy Cross. Before Barker could pick up the phone following the last out, his son rang him. Barker told his son to add a postscript to a "We'll get 'em next year" note he had written him years ago.
"I always expected the Holy Grail would come home soon," Barker said.
Maybe not soon enough. But hey, it's here.