In the Dough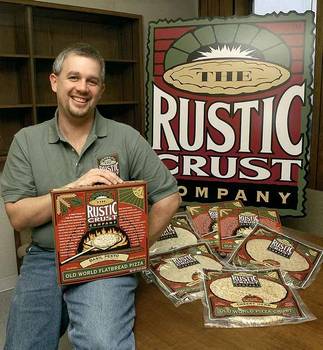 According to a trade publication called Dinner Plate Digest, American families want quick, healthy, family-friendly dinner alternatives. They also love their pizza – eating it at home at least 30 times a year. One Granite State businessman has found a way to indulge this culinary love affair while giving at-home diners the convenience, fun and good taste they're looking for.
Brad Sterl Jr., owner of Rustic Crust Co. in Pittsfield, recently released a line of all-natural ready-made pizza crusts and frozen flatbread pizzas that he believes will bring the kids into the kitchen and make moms and dads feel good about putting a pizza on the table.
"Who doesn't like pizza?" Sterl said during a visit at his Barnstead Road facility where he and a dozen employees form the crusts and make the pizzas. "More and more families are looking to provide quick, healthy meals — meals that fit into their hectic schedules. Here's a solution that tastes good and is good for you."
As parents of Morganne, 14, and Kyle, 13, Sterl and his wife Debbie know firsthand how busy family life can get and how difficult it can be getting the troops together for a healthy and satisfying dinner.
"We've tried to be as close to the kids as we can be," said Sterl, who does much of the R&D for The Rustic Crust Co. right in his Concord home. "Making pizza is always a great way to get everybody together."
The Rustic Crust Co. offers five varieties of pizza crusts, including Cheesy Herb, Tuscan Six Grain, Ultimate Whole Grain, Classic Sourdough and Italian Herb, all of which are hand-formed, double-proofed and made from unbleached and whole grain flours. Much of the process is done by hand.
Sterl's selection of frozen flatbread pizzas includes Cheese and Vine Ripened Tomato, Ultimate Cheese and Herb and Basil Pesto and Roasted Red Pepper. Like the crusts, only natural ingredients go into the pizzas.
The best part? These pizzas only take five to seven minutes to bake in the oven.
"People love the fact that you can create your own pizza and have it on the table fresh and hot in less time than it takes to get a pizza delivery," Sterl said.
'A new twist'
Sterl introduced his Rustic Crust line in September at the Expo East in Washington, D.C., but he's been creating and marketing pizza-related products to restaurants and institutions since 1996, and to specialty health food stores since 2000 – all under the name "The Ever Better Eating Company."
After months of market research, focus groups and consumer feedback, however, Sterl concluded a new look and new name would better serve the old-world, all-natural feel and taste of his products as he ventured into the mainstream retail market.
"This is a new twist to an existing product," Sterl said of The Rustic Crust Co. line of goods. The new autumn-colored packages sporting wheat shafts, basil leaves and brick ovens, have been available in natural food stores natural food aisles of supermarkets — including Shaw's and Hannaford — for barely two months but are already securing a loyal following.
"People are responding well to it," said Dave Ham, catalog manager of natural foods for Hannaford Supermarkets. "I thought it was a unique item for the natural food side of our business — it's good quality, its packaging is good and it's reasonably priced for a natural food item."
Added to the high-quality natural ingredients of Sterl's crusts is the extended shelf life he is able to offer, thanks to a unique and, again, all-natural preservation process and packaging that allows consumers to store Rustic Crust pizza crusts on shelves for up to 120 days.
Now known as the "Crust Crusader" by friends and family, Sterl's decision to launch the Rustic Crust Co. actually had as much to do with smart business as it did with his love for the dining staple.
"We were seeing an artisan bread boom," said Sterl, 39. "And around 2000 the natural food market really started to take off, people were becoming interested in natural foods, but there was so little choice."
Pittsfield expansion
For Sterl, finding a way to build a business around this trend made sense, especially considering a career path that began at 13 when he worked as a breakfast cook for a Perkins Cove restaurant in Ogunquit, Maine.
By 20, he was the owner of the Owl's Nest restaurant in Lebanon, later worked closely with The Ground Round and the Weathervane restaurant chains. Prior to launching his pizza crust business, Sterl served as president of Foodee's Pizza chain and was instrumental in helping that company launch its pizza line.
"I've just always had a great love of cooking," Sterl said. "I love trying new things and like to be known for having unique ideas."
Sterl's enthusiasm for the culinary products he puts out has resulted in a portfolio of 600 Rustic Crust accounts from New England to Chicago and the Carolinas. Shipments to California are expected to begin by the end of November, and he has hopes of taking the Rustic Crust name national within the next year and a half.
As for product expansion, Sterl said he hopes to introduce a selection of organic flavors to his crust line and is considering adding some basic sauces — tomato, pesto and olive oil – for his "make-it-at-home" pizza customers.
"Right now, we want to focus on the products we know we do well. I see too many companies lose focus – they don't even realize when they're doing too many things and nothing is getting done well."
Sterl is confident this insight will allow the Rustic Crust Co. to grow smartly and successfully. His sales volume has doubled over the past year, and he expects it to triple over the next.
Sterl said account acquisition rather than diversification is behind the ongoing growth of his company. So confident is he in the success of his all-natural Rustic Crust line that renovations are nearing completion to double his space at the Pittsfield plant. When completed, Sterl will be operating out of a 12,000-square-foot facility, plenty big enough to house new equipment and twice as many employees.
"We're going to need the space," said Sterl. "We know once people try Rustic Crust pizzas they're going to come back."