Hurricane Katrina barely skims local charities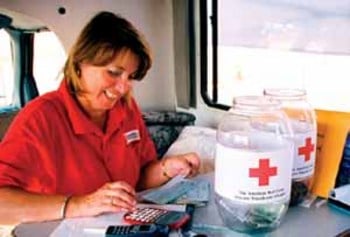 Does the need of one community deplete the support given to another? It's a question being asked and addressed by manager of nonprofits throughout New Hampshire in the wake of Hurricane Katrina's devastation of the Gulf Coast.
"You just hear this great sucking sound," said Sue Connor, director of services for Southern New Hampshire Services about a recent gathering of social services executives. "It's the sound of everything leaving New Hampshire and heading for the Gulf states. The sentiment is that this could be like September 11th, leaving local efforts behind the eight-ball."
Many charitable organizations in the Granite State have experienced an immediate increase in donations in post-Katrina, but much of it is being directed toward the Gulf Coast, according to Connor and other social service executives. The question is, does this short-term redirection of funds leave local programs struggling?
"We are seeing a real outpouring. People are leaving thousand-dollar checks," said Shannon Sullivan, director of community development for the Salvation Army in New Hampshire. "But for the most part, Katrina has been in the forefront of peoples' thoughts."
"We've had many people call and say 'I'd like to recommend we do something,'" said Racheal Stuart, vice president of program for the New Hampshire Charitable Foundation, an organization charged with the management of more than 1,400 endowment funds and over $320 million in assets.
By September 15, the NHCF had already channeled more than $130,000 in grants to various nonprofits responding to Hurricane Katrina for both immediate relief and long-term help in rebuilding their infrastructure.
Above and beyond
While the outpouring of Granite State generosity may look at first glance like it is being directed south, research shows that the impact on local support may not be as dire as perceived, according to philanthropy expert Melissa S. Brown.
"My experience with data going back as far as Pearl Harbor is that, when you adjust for the economy, crisis has no impact on the total amount of money given or where that money is given," said Brown, associate director of research at The Center on Philanthropy at Indiana University. "Most people will tell you their donations are 'not instead of' but 'in addition to.'"
This appears to be proving true for organizations like the NHCF. "The majority of the gifts being made through us thus far are from new money — that is, giving above and beyond what was already earmarked for charitable purposes," said Peter Lamb, vice president of philanthropic services.
Even following September 11th, much of the falloff of charitable donations had more to do with the nation's economy than it did with a redirection of contributions, according to Brown.
"In the long run, for about six months after 9/11, fund-raisers felt giving was down, but we were in a recession at that time and giving always goes down when the economy goes down," Brown said.
Regardless, Brown pointed out that a total of $2.7 billion was donated for 9/11 relief over the two years following the attacks, accounting for less than 1 percent of annual charitable donations, which totaled more than $230 billion during the period.
Brown said she believes history will once again repeat itself. Within two weeks and two days of Hurricane Katrina $1 billion in donations had already been recorded (a total that does not include money raised through smaller, unregistered fund-raisers) but this too represents a small fraction of the $250 billion donated to charities annually.
While some in New Hampshire's social services sector may be holding their breath when it comes to community support, many agree with Brown and believe that local residents will keep in mind the needs of local charities.
"Our donors and community investors have dealt with this before, supporting people thousands of miles away but they have always continued to support us locally," said Michael Quinn, director of community and brand management for the Heritage United Way.
This is an important factor, according to Brown, and is one that all disasters, no matters how far away, are able to drive home.
"Giving locally is as important a way of saying 'I'm supporting the relief efforts in the Gulf' as giving directly to the hurricane affected area," said Brown. "The best way to assure that the nation will be able to respond to another crisis is by continuing to give locally."
Brown's sentiment is reiterated locally: "Maintaining a strong nonprofit infrastructure on a local level is so important," said Deborah Shatter, senior program officer for the Charitable Foundation. "This is what will ensure that whatever the next crisis is that we face we will be prepared."