Humanitarian efforts, technology intersect at Portsmouth firm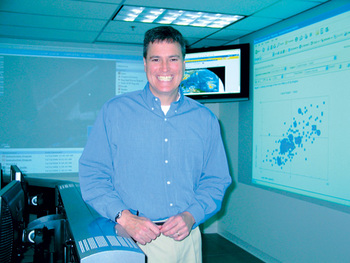 While not exactly Mister Spock's tricorder, a Portsmouth company has combined several existing technologies into a new type of communications process that has been used for everything from assisting refugees in Afghanistan to coordinating relief efforts after Hurricane Katrina to mapping the extent of the spread of avian flu in Southeast Asia.
Global Relief Technologies, founded in 2003, equips PDAs, or personal digital assistants, with global positioning systems and online data collection software and, through the use of wireless and satellite communications technology, has developed a unique system that can be used almost anywhere to collect and beam data back to an operations center across the globe for analysis. Combined with geographic mapping imagery, handhelds or laptops equipped with Global Relief's applications make for extraordinarily versatile and powerful tools.
"We don't like to think of ourselves as computer company. We call ourselves systems integrators," said Michael Gray, chief executive officer of Global Relief. "We're fixing a problem, we're fixing the problem of collecting data and transmitting it."
The Austin, Texas, native's career as a U.S. Naval officer and as refugee coordination officer attached to the U.S. State Department serving in war-torn areas like Kosovo gave him first-hand experience at the shortcomings faced by workers trying to take data in the field.
"My job in the field was to monitor, evaluate and coordinate humanitarian response and U.S. assistance. Most of it was still captured by pencil and paper," said Gray, 45.
PDAs and even satellite transceivers are commodities in today's technological world. In fact, GTR often combines its solutions into a package called a SMART*kit, which includes a ruggedized PDA or Smartphone with wireless Bluetooth capability, satellite communications and GPS mapping and imagery, as well as its RDMS software.
What sets Global Relief's solutions apart is not the hardware, but the software. Its Rapid Data Management System, or RDMS, is a data base that is as user-friendly at the front end as it is complex at the back end.
Technically, the software is unique because of its ability to work with satellite phones but also for its ability to compress data — and therefore allow more data to be transmitted faster, moving transmission rates from 1.8 kilobytes a second to as many as 500 kilobytes a second.
"I've told our engineers it really needs to be as simple as possible. It needs to have big, easy-to-read buttons, colors, almost as if you were designing it for a child," said Gray. "When you're in the middle of a crisis or life-threatening situation, you don't want to be trying to figure out how the thing works," he said.
The simplicity is threefold — not only is data easier to collect, it's easier to send back to a central location for analysis and the analysis itself can be quicker. And, since every disaster is unique, the RDMS is customizable to suit the needs of the client.
"If the client already uses a paper form, we can use that as a starting point to create their tool," said Gray. "Sometimes, however, we start from scratch. We listen to our clients and work very closely with them."
The data collection questions can even be created or edited on-the-fly in the field, depending on their complexity.
"Our main competitors at this point are communications companies. That's why speed to market is so important for us. Not only will the technology come up, the software will too. Because if you really want to be effective with the hardware, you need to make the software more powerful and unique to back it up," he said.
Strategic partnerships
Data is merely a set of arbitrary numbers or facts until it is categorized, compared and put into some context to be transformed into information. While some of Global Relief's customers are sophisticated enough to do this at their own facilities, others are not or cannot because of a variety of reasons, data security, manpower and the safety of workers in the field are but a few.
To meet that need, Global Relief partnered with Raytheon in Tewksbury, Mass., to create a $500,000 virtual network operations center, or VNOC, based at Global Relief's headquarters at the Pease International Tradeport, where Global Relief makes its bread and butter. Banks of computer workstations tie into several servers, which receive data uploaded from the field through a secure connection exceeding Department of Defense standards. Mapping imagery is displayed on walls around the room giving the center a NASA space center-like appearance.
Such Ray Bradbury-esque technology is expensive, but through strategic partnerships with GeoEye for satellite technology and Telenor, a telecommunications provider based in Norway, Global Relief is able to extend price benefits on — and, in some cases, even give away — hardware to nonprofits and charitable organizations.
Many of Global Relief's customers are large relief agencies, such as the Red Cross/Red Crescent or military entities, such as the Department of Defense, which are working to move hundreds, if not thousands, of people and supplies in some of the most critical areas of the world.
The firm's newest contract is with DoD, which is shelling out $3.5 million to equip Marine Corps field crews with 120 PDAs to collect data in Southeast Asia on the avian flu.
"Teams will be checking for outbreaks. Data will be correlated with geographic information to better understand the range of disease," said Gray.
The Marines also used Global Relief's services in New Orleans in the days following Hurricane Katrina and in Harris County in Texas after Hurricane Rita to analyze roads as well as shelter issues for refugees from the flooding and wind damage.
"That has propelled us, with Raytheon, into more homeland security and first-responder work," said Gray.
Some customers, however, are beginning to use Global Relief's services in other ways. For instance, the Houston, Texas, public service department is using the system to monitor bridges and sewer pipes.
Starting a new business, especially one as complex as Global Relief, requires support from outside the firm as well. While many of his contacts are in Washington, D.C., "I just knew in my head that wasn't the right place for us," said Gray.
"The best decision we ever made as a small company getting up and running was locate the business in New Hampshire instead of Washington, D.C. Our business partners were up here — MapTech, others, and especially Raytheon. I didn't want the company to be just another 'Beltway Bandit,'" said Gray. "We have had far more success in working with the government in a way we never expected through the support of Congress. Senator Sununu has been a tremendous supporter. Congressman Jeb Bradley was a terrific fit and a big supporter, as were Senators Judd Gregg and Susan Collins from Maine."
He said he's also intrigued by the background of new District 1 Congresswoman Carol Shea-Porter. "As I understand it, she was a relief worker for Katrina. I hope we can meet her and show her what we've done."