Hudson could be home to resort casino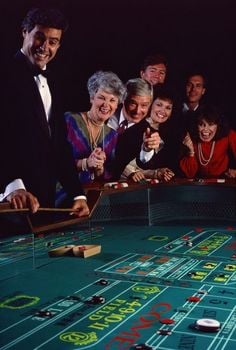 HUDSON – A large-scale destination resort and convention center could be built on the Green Meadow Golf Club property in south Hudson if a new House bill aimed at boosting the state's economy by legalizing expanded gambling gets approved.
The bill, known as House bill 593, is sponsored by Republican state Reps. Frank R. Emiro and Randolph "Rip" Holden, and asks state legislators to legalize full gaming facilities and video lottery terminals, or slot machines, that proponents say could create thousands of new jobs and infuse as much as $200 million annually to state and local coffers.
Locally, the bill's implications run wide and deep, centering on the 375-acre site that drew copious attention two years ago for its proposed retail complex, and even providing funds toward the restoration of commuter rail service from Boston to Nashua.
The rectangle-shaped property, owned by Greenmeadow Golf Club Inc., sits south of the Sagamore Bridge off Lowell Road and along the Merrimack River. For years it's housed two 18-hole golf courses built by the property's late owner, golf pro Phil Friel. Currently, a golf and ski retail store, the World Cup driving range, and company offices are also on the site.
The project, which would be called Sagamore Crossing Golf Resort & Convention Center, would cost about $300 million and take roughly 18 months to build, according to a proposal prepared by Clyde W. Barrow, director of the Center for Policy Analysis at the University of Massachusetts Dartmouth.
It would feature a 300-room hotel with a large convention hall, an 18-hole championship golf course, and a 135,000 square-foot casino large enough for 4,000 slot machines and 100 tables, according to the proposal.
Other amenities would include several retail outlets, restaurants and smaller eateries, a concert/entertainment venue, and parking for 4,500 cars.
Should the bill pass and their proposed complex become reality, two Greenmeadow Golf Club officials said Thursday, the expected revenue would provide state and local economies with a much-needed shot in the arm.
They discussed the project just hours before Gov. John Lynch announced that the state budget shortfall could cost up to 300 state jobs and close several district courts and prisons.
"With the state economy so far out of line, there have been a lot of proposals to expand legal gambling this year," said former Hudson state Sen. Robert Clegg, who signed on as a lobbyist for Greenmeadow Golf Club after his 14-year legislative career ended in 2008.
"This bill, as amended, legalizes full gambling, and that's what's needed to bring in the kind of state and local revenue we're looking for."
Nashua lawyer Jay Leonard, the vice president of development and general counsel for Greenmeadow Golf Club, said the facility would attract visitors willing to drive a ways, stay awhile and spend a lot of money.
"As a destination resort, we'd have a much different draw than a racino or race track," Leonard said.
Racinos are smaller gaming houses, often part of horse or dog tracks, with tables and slots.
"The study shows that resort visitors come from a 125-mile radius, usually because they stay longer . . . for racinos, it's only 25 miles."
Further, Leonard said, the study estimates that as much as 80 percent of the proposed Sagamore Crossing's customers would come from out of state.
Clegg and Leonard liken the plan to a smaller version of Connecticut resorts Foxwoods and Mohegan Sun, with provisions that would preserve a considerable amount of natural open space, especially along the Merrimack River.
Clegg added that the facility's buildings would be clustered closer together and ultimately, take up considerably less room than those proposed in the 2006 retail complex, which would also contribute to the site's aesthetic value.
"The golf course would assure most of that," Leonard said. "We'd probably look at walking or bicycle trails along the river, and set aside areas for passive recreation as well."
The property has nearly a mile of Merrimack River frontage.
The men also said that the traffic impact, an issue that led a number of nearby residents to oppose the retail complex, would be significantly mitigated by the availability of commuter rail and the fact that most resort visitors wouldn't come and go nearly as often as shoppers would have.