Hoyle, Tanner: Engineering New Hampshire's Future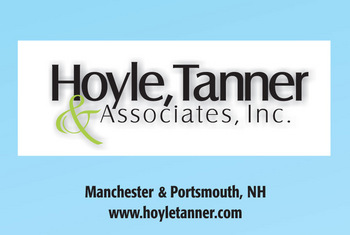 Engineering is a challenge. It is the process of developing ideas, gathering input from stakeholders, building consensus, and designing projects that provide longterm benefits to the public, our communities, and the environment. For the past 36 years, Hoyle, Tanner & Associates Inc., the largest civil engineering firm headquartered in New Hampshire, has prospered due to one overriding factor: dedicated employees.
At Hoyle, Tanner we believe our employees are our greatest asset and have structured our firm's culture around the strengths of our personnel. Like many other firms,we are working hard to meet the challenges of the current economic climate; however, we are fortunate to have the opportunity for recent growth due to the quality of work produced by our staff and the subsequent satisfaction of our clients.
In addition to our focus on clients, we have had a longstanding history that supports and encourages our employees in giving back to their communities; many of whom are involved in volunteer activities for charitable organizations and their local municipalities. In the past several months our personnel have contributed significantly to many local New Hampshire based programs including:
• The Salvation Army's Back to School Program – providing children with outfits for their first day of school.
• The State Employees' Association of New Hampshire Operation Santa Claus – providing less fortunate children across the State with Christmas gifts.
• American Cancer Society's Daffodil Days – helping people fight cancer with courage and optimism, while providing physical and emotional support and financial information to ease the cancer experience.
• Salvation Army Kids Cafe – providing a warm and nutritious meal each night in a fun and safe environment in addition to many types of recreational activities and tutoring allowing kids to develop intellectually, physically and spiritually.
• Concord's Cold Weather Shelter – providing shelter and support for the Capital City's homeless.
• NeighborWorks Greater Manchester – improving the lives of individuals and families living in the Greater Manchester region by providing access to quality housing services, revitalizing neighborhoods and supporting opportunities for personal empowerment.
"It is only through the generosity of companies like Hoyle, Tanner that the Operation Santa Claus program, run by the State Employees Association of New Hampshire/Local 1984, can provide almost 3,000 needy children in New Hampshire with clothing and gifts at Christmas," said Laurie Aucoin, chairperson, and Terri Wright, education and training coordinator.
Hoyle, Tanner's dedication to social responsibility is evident in our approach to professional practices. In the words of co-founder John Tanner, "Designs involving state-of-the-art technology not only can be, they must be, sensitive to and compatible with the natural and man made environment surrounding them."
We believe this is as relevant a statement today as it was more than 20 years ago. With Leadership in Energy and Environmental Design (LEED) Accredited Professionals on staff, and the firm's membership in the U.S. Green Building Council, Hoyle, Tanner stays at the forefront of green building design and sustainable practices, to advance structures and sites that are environmentally responsible, energy efficient, and provide healthy places to live and work.
Hoyle, Tanner is the only engineering firm in New Hampshire to be a member of the New Hampshire Department of Environmental Services Aspiring Leaders Program, which promotes conservation and sustainability initiatives.
At Hoyle, Tanner we are committed to providing a work environment that fosters professional and personal development through challenging opportunities and employee involvement. As such, in 2008, Hoyle, Tanner's board of directors performed an in depth review and analysis of ownership alternatives for our firm with the goal of creating and fostering an entrepreneurial spirit among our employees. Employee ownership was determined to be the best choice by our firm's leaders believing ownership would instill an even greater sense of pride and commitment in our already dedicated employees.
To achieve this goal Hoyle, Tanner became an employee-owned company by implementing an employee stock ownership plan, or ESOP. Hoyle, Tanner's new employee ownership structure meets the wishes of our founders, and the new structure will enhance Hoyle, Tanner's presence in the marketplace and ensure our continued success. The shift in ownership is designed to ensure that the company continues to operate successfully while providing additional incentives for each employee to consider the company's long term success through day-to-day operations.
"Moving the company to an ESOP model allows us to reward our long-term employees for their hard work and dedication and helps us to attract new employees. I'm proud of what we've achieved over the last 36 years and look forward to even greater successes in the future," commented James D. Boothroyd, P.E, president and CEO.
For more information, visit www.hoyletanner.com.