How's business in the Upper Valley?
Area businesspeople assess the state of the region's economy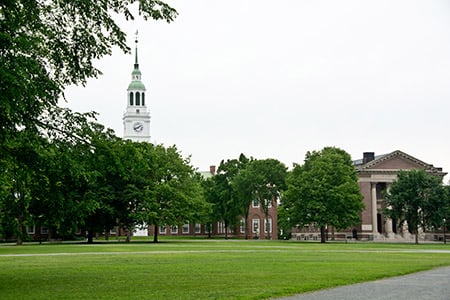 NH Business Review met recently at the offices of Four Seasons Sotheby's International Realty/Lang McLaughry Commercial Real Estate in West Lebanon with area businesspeople to get their take on the issues facing the region and its economy.
Participants were:
David Brooks, director of planning and zoning, city of Lebanon
Peter Glenshaw, vice president of external affairs, Alice Peck Day Memorial Hospital
Tracy Hutchins, executive director, Hanover Area Chamber of Commerce
Bill Kidder Jr., senior vice president and senior commercial lender, Ledyard National Bank
Nancy Merrill, director of planning and economic development city of Claremont, and a former mayor of Lebanon
Allan Reetz, director of public relations, Co-op Food Stores
Bruce Waters, senior broker, Lang McLaughry Commercial Real Estate
NH Business Review: What do you think the state is of the Upper Valley economy?
Nancy Merrill: First off, it's really nice for you to remember that Claremont is part of the Upper Valley. It's an ongoing debate: Where are the lines? The reality is people are commuting between Lebanon and Hanover; we've got workers commuting to businesses and jobs all around the region, so it's clear we're connected.
Certainly in Claremont, we've been busy. We're putting a lot of stress on four areas: business recruitment, retention, small business and arts and culture. We're seeing activity in all four of those areas.
David Brooks: In Lebanon the economy is going well. The manufacturing sector is strengthening. We've had contact with a lot of local manufacturers. They're hiring, looking for space. We're actually running up against a bit of a pinch point in terms of the availability of land that is suitable for manufacturing space. But even in the retail sector, the service sector, we're having some turnover, which is happening nationwide; some of the larger chains and things are going away, but they're being backfilled to a certain extent, and a lot of other developments coming along right behind it.
Three or four large projects over the last half a dozen years or so have been approved, and they're finally starting to see some activity there, both on the commercial side and the residential side. Housing is becoming a major concern as well, because some of the manufacturing firms, and in retail as well, what we're hearing from them is that they are having a hard time recruiting people to come and fill their jobs because there are thousands in the Upper Valley and the cost of housing.
Peter Glenshaw: Housing is a huge issue for us; we think the economy is strong as well, and we're so strong that we have workforce issues, and I think everybody's faced that throughout the state.
I was just on a call with a senior colleague over at Dartmouth-Hitchcock who regularly drives an hour to get up here every day. This is a really interesting constraint that we're up against – the twin challenge of recruiting people and then having a place for them to stay.
This issue really is also about, how do we attract a young workforce here to make their lives here? I moved here when I was in my 30s and you know I'm going to be here until I get pushed out the door. But how do we convince people that this is where they need to settle? This is, I think, the big challenge that we face as this region.
Tracy Hutchins: Hanover, of course, is a little different engine because we don't really have developable land; it's built out and of course the largest employer right in the center of town is the college, and are finding it challenging to find space to expand. But same thing: housing, housing, housing. I'm fairly new to this area and sold my house in southern New Hampshire, which was a pretty robust market, and came up here and was just astounded at what the housing prices were. You meet people every day driving long commutes to come into this area to work.
Tracy Hutchins, executive director of the Hanover Area Chamber of Commerce
Allan Reetz: We're fortunate in that we've been a local business since 1936. There's stability that comes along with that, and we serve both New Hampshire and Vermont with our stores, but at the same time, the grocery sector is evolving and it's not just the grocery sector. Let's face it, you can walk into a pharmacy today and see milk and cereals and crackers and sometimes mixed nuts, things that you didn't find there three or four years ago. So, as the market evolves and people can buy food online, and as many people do, we're seeking to be as nimble as possible within the marketplace, but not lose that local focus, because if we do that, then where are we?
And I would just piggyback on the workforce comments that people have made. It's not just hiring. I was in a meeting yesterday where I think the number one job opening in the state of Vermont is for cashier. So there are more cashiers, there's entry-level and certainly in our business we have many of those jobs to fill but what we're also striving to do is then to train our employees to move up the ladder but also design training programs so the employee comes in and they should know the steps. You've got to sometimes make your own next hire internally, but that takes time, effort, and then we can go into the housing, which I think folks have touched upon pretty well so far.
Bruce Waters: I'll speak a little bit to macro aspects of our market for a moment because of the use of the phrase "good economy." I don't want people to think it's a hot economy, which, quite frankly, would not be good for our local economy. When I first arrived in the Upper Valley, it was pretty much a one-horse town in the sense that the college and the medical institution were kind of the only employer.
But since the last 30 to 40 years, the private sector has become just as important in terms of volume and vitality of attracting employees. There has been a tremendous amount of growth in that period of time, with initiatives coming out of the Geisel School of Medicine, the Thayer School of Engineering, the Tuck School. Unfortunately, because of housing and so forth – unlike Nashua or Manchester or Portsmouth – you can't attract a company up to the Upper Valley with 50 or 100 employees, so I refer to it as that organic growth and I think that's really what's driving our economy right at the moment, meaning that these initiatives have started and show promise, started with three, four, five employees, they're already here, had their housing all set up, their kids in school, their wives or husbands may have a second position somewhere in the Upper Valley who didn't have to think about relocating from Boston or New York or Atlanta. As a group, they're able to recruit in that onesy-twosies to continue to grow their company.
So the measured growth that the Upper Valley has witnessed over the last 10 to 20 years continues, and I think for the foreseeable future. I don't see it overly spiking up, but just a nice, steady growth level, which from my point of view, is a good thing for the Upper Valley.
Bill Kidder: I have a difficult time with this question because when I look out there, I don't see a lot of new business creation. Most new growth that I've seen comes from the existing business base, and that growth isn't what I would call robust. They're staying maybe a little bit ahead of inflation and every now and then a company picks up and that really helps the area.
Bill Kidder, Jr., senior vice president and senior commercial lender at Ledyard National Bank
Mostly what I see here is businesses that were successful in navigating the downturn, and as the economy picked up even in modest ways, they've been able to significantly enhance their position, allowing them to expand.
The difficulty there is coming into the real estate side where materials are getting really expensive, labor shortages have driven up labor.
Then there are requirements. We have people coming from an hour away in multiple directions and some of our more experienced and higher-skill positions have had to stay empty for better parts of the year, usually filling that slot from someplace significantly outside of the market.
So I think there's a lot of good things happening in the market, and we see growth, but there are a lot of things to be concerned about as well.
One that we see at the top of our radar is the age of your average business owner and the sale businesses are growing. It's nice when it rolls over to an employee or somebody that's in the market but when it rolls outside of the market, those jobs be stay here for a year, maybe a year and a half on the outside, and then they tend to roll outside of the Upper Valley.
BW: What I have seen over the last 10 years, which I think is a very positive aspect of the Upper Valley, that is, no longer are we kind of trite, it's not really Hanover versus Lebanon or the Upper Valley core versus Claremont, we morphed into this great economy called the Upper Valley, which includes Lebanon, Hanover, Claremont.
Nancy and I were involved in relocating New Hampshire Industries, which was a business that was located in Lebanon since 1967. They did look at continuing their growth here, but the economics of building or buying land just didn't work and Nancy was able to come up with this incredibly beautiful facility in Claremont.
What was impressive to me is that New Hampshire Industries moved to Claremont, lock, stock and barrel, and I was they were going to lose some of their employees. They haven't lost one. And that really, in my opinion, makes a great statement for how we're now dealing with the Upper Valley because they were able to move to Claremont in a facility that enables them to grow, retain their employees, even though there are some coming all the way from Enfield and Canaan down to Claremont.
NM: You know there are these companies in Lebanon, they want to grow and for whatever reason they can't. If they can be accommodated in Claremont and continue their growth and keep their employees here in the region, we're all going to be winning.
Most of these companies are looking outside of the Upper Valley. If the choice is we're going to lose those jobs as well as that business, I'm happy to step in. Across the country, the rule of thumb is 80 percent of your job growth and your tax base comes from companies that are already here. It's not the page one story that every community wants, but the reality is how you're paying attention to the ones that are here.
That said, we've got Canadian companies that bought two Claremont companies so Claremont doesn't really look to that Boston market. The Montreal-to-New York market is where a lot of companies looking at Claremont are coming from. Both Canam Bridges and North Country Smokehouse are now Canadian companies.
PG: It's kind of one of the secrets here that manufacturing is strong.
NHBR: Are companies attracted to this area because they know they can find skilled workers?
NM: They absolutely come in here, at least where I am because of the skilled labor for those jobs.
Peter Glenshaw, vice president of external affairs at Alice Peck Day Memorial Hospital
PG: It's a very interesting area, an incredible attractor of talent. The American Enterprise Institute had what they called the "super zip codes" in America. Where do the top 5 percent of Americans live in terms of combination of household income and educational attainment? New Hampshire has four of these super zip codes. Three of them are near Manchester – Bedford, Amherst, Hollis – and where's the other one? Hanover. And if you take Norwich (Vt.) and Lyme, they're in the top 6 percent, so you have this incredible concentration of highly skilled, highly compensated, well-educated people, and that trickles down into other places, so it's a very good workforce area in that regard.
TH: In terms of tourism, so much of the money that the state spends on tourism is in the 93 corridor or the Seacoast, and the whole western side of the state is sort of the lost frontier when it comes to that. You know, our chamber's starting to take a real tourism focus and that's going to be sort of the bridge to bring more focus on the Upper Valley area.
BW: I've described my view of the Upper Valley economy as measured and moving forward. On the other hand, at some point there's an opportunity to continue to grow and maybe even at a more rapid pace, and in order to do that, we clearly need commercial inventory.
David probably has the exact square footage of the projects that are basically permitted, almost shovel-ready. We've got about 2 million square feet on the books that could be built. Unfortunately, to build something within those projects would be speculative because we don't have enough absorption, so it's the chicken and the egg. There's a developer risk of going out and building up a 50,000-square-foot industrial building or an office building with the hope that you're going to be able to absorb about 25-30,000 square feet of new space.
So I don't know when that's going to break or where the opportunity costs are going to cross.
DB: We've had some very large projects. We have three in particular that moved through the review process in the late 2000's to early 2010-2012, and as you said, there are those three projects alone with up to 2 million square feet.
One of them is River Park along Route 10. The first building that I think is likely to happen is in the spring. It's going to have some offices, some ground-floor commercial, maybe a restaurant or something like that. The rest of that project is moving forward as single-family residential at this point because there's a demand for that. The later phases of that project is life sciences, biotech-type stuff. There's a belief that Lebanon and the Upper Valley could be the next Cambridge and that's sort of what that project is betting on.
Jeff Feingold, editor of NHBR, at left with David Brooks, director of planning and zoning, City of Lebanon.
But there are two or three projects that are sort of betting the same thing, and there may not be enough businesses to fill all that space. It's sort of who's ready first.
Again, another big project is on Route 20 between Lebanon and Hanover not too far from the hospital. The first thing they brought was a hotel because there was demand, and the next two phases of that project are residential – there are going to be about 150 apartments because that's where the need and demand is.
BW: We've had some great success in a very small little subdivision called Plaza Heights, which used to be an old sandpit, and subsequently it was subdivided into five lots. FedEx was the first company to buy one of the lots that enabled the owner-developer to put in a city road. Subsequent to that, another company that has arrived is Provisions International.
We also have a company called Norge Technologies that are up at the Plaza Heights industrial park which are quietly manufacturing solar arrays for some pretty big projects both in Vermont and New Hampshire. They weren't even around five years ago and now they're really growing. They were owned by some Dartmouth College guys who love the area and quality of life. They wanted to keep their families here but they have this business idea that has really grown. You can cite examples of that type of company and the reason for their growth over and over again. But it's small and it's incremental; it's not a big flash but that's what keeps the economy going here.
BK: I believe that the vibrancy and community is driven by local ownership of businesses and you just cited a number of good examples, and most of those businesses we have locally are in some sort of specialty field that requires a higher level of expertise. I see a real path to growth in local ownership of businesses that have unique capabilities. We don't really have a market that allows us to deal with mass production, whether it's somebody who is printing circuit boards or whether they're doing any number of other products out there. We can talk about having space, but really what you're talking about is that we're not drawing people in with the limited population we have.
Grafton County had a population growth that was six-tenths of a percent over the past four or five years, among the lowest in the country.
PG: The interesting part, though, is that when you think about growth, go back to the college and the medical center. They're bringing new people to this region every year. And so there's fresh oxygen as they're coming into the system every year, and while some are staying and some return many years later, the question is are we getting what we should be getting? When you're next to an Ivy League institution, that's a powerful draw. How do we work together on those things and really see that generate as much as it could for this region?
I feel as though there's lots of new young people coming here, but are they staying? And then what are we also thinking about with our high school kids and how are we presenting some opportunities for them to remain here?
Nancy Merrill, director of planning and development, City of Claremont
NM: We're really looking forward to our makerspace, which is going to open shortly. It's an opportunity to hit a lot of those issues. It's 11,000 square feet, with CNC machines, welding machines, 3D printers, woodworking, and a lot of arts-centered stuff. There's a lot of interest from local employers because they see this opportunity for people to actually experiment with some of these things, but there's also an entrepreneurial network that's going to be coming into that center as well to work with people as they test out an opportunity or a new business.
PG: We have largely been able to keep our information services fully staffed by cross-training and bringing people from other departments into that. So rather than getting high-tech talent from Boston or somewhere else and paying top dollar, we've been training people. We need first assistant surgical techs; we've had to develop our own programs. These are post-secondary opportunities that have tremendous salary opportunities, but we've had to sort of build around and take young people and sort of one by one say, "We'll build a custom training program for you in-house." So I can get people that are eager for those opportunities. It's about getting the work and getting them here, because once they're here they love it. You can stroll through the farmers market in Lebanon in the summer, so many young people, young families – it's filled.
NM: It's a huge quality of life issue.
BK: Talking about trying to attract and retain young people – what we frequently hear is that there's not a lot to do up here. That was one point we consistently heard in the downtown visioning study. The other thing that came out of the visioning study was the idea of the wealth of arts organizations that we do have. Opera North is really the only company north of Boston, and it's not in Portland, it's not in Manchester, it's not in Burlington; it's in Lebanon. Just shocking, in a good way. But we've got what could really be a sort of anchor of arts organizations, and that was one of the major things that came out of our visioning study: to draw on that and make it sort of a destination, and then also to provide housing, the shops, the restaurants, the things that people would like to be able to do.
TH: Our chamber runs the Meet Up Upper Valley program where we contract with the college, DHMC, Hypertherm and a few other companies in the area to run events because they're bringing some people in from further away. I work with the HR people, and what they've told me is those people that come here from distant places if they can keep them three years, they feel lucky because it's a little bit of a culture shock. People that have grown up here, they know what they're getting into by living here and staying here. People coming from a more urban area come here, and there's not a Target. You have to drive farther to get to where you want to go, our weather is maybe not conducive to somebody who comes from a warmer climate, so there's those turnovers.
Bruce Waters, senior broker at Lang McLaughry Commercial Real Estate
BW: I go back to one of my original statements that says that when I first arrived we were kind of very tribal; Claremont was Claremont, even Hanover. But from my perspective from 10,000 feet looking down, we're starting to grow more as a global community and there's a lot of cross-pollination between Claremont and the Upper Valley.
NM: I agree with that. One sort of sector where we've not seen that sort of connection. Red River is doing great, they're growing well. We've got another building right next to them, we'd like to see that fill up with the same kinds of companies but that really requires that investment.
I remember about 20 years ago, we were sitting in a planning board meeting, and the consultants for Dartmouth-Hitchcock were coming in to talk about the impact of the hospital on Lebanon, and they started talking about having 100 on Route 120, it's going to develop better with satellite businesses. And everybody at the table is going, "Yeah right." We didn't see it coming.
AR: For the Hanover Co-op, we opened our Lebanon store in 1997 and we saw it as an opportunity, but what you also describe as that division, to use your term "tribal," we saw that, and it was like, well we're the Hanover Co-op and have been since 1936, and we're going to open this Lebanon store – how is this is going to go over? What we saw and what really worked out was we needed to pull pressure off our Hanover store. And so we wanted to attract about 75 percent of the new customers to Lebanon as new customers and it worked out pretty well. But you nailed it on the head when you said we have started to see that those divisions, those town lines, have faded.
BW: You see that in residential housing. When I first arrived here, we still had the Mary Hitchcock Hospital in Hanover, and when you recruited doc into that institution, it was pretty well said, "You will live in Hanover. You don't want to go down to Lebanon." Well, when the medical center moved from Hanover to Lebanon, it was no longer a Hanover institution; it was an Upper Valley institution. I think that that really started the concept of a more global Upper Valley than an individual kind of town.
PG: I think we've also been affected by market forces and changes in the economy. At that time we also had independent hospitals. So now when you think about the major hospitals in this region, obviously the medical center is the biggest one, but you've got Mt. Ascutney in Windsor (Vt.), you've got New London Hospital, Alice Peck Day, and they're all part of the same network, so that forces in health care that have encouraged consolidation have also changed us to not be as tribal. Market forces are saying you actually have to think broader and you have to find those connections.
NM: We've got an advanced precision program at the technical school in Claremont. The class is packed every year, and every company in the region is at the door when those kids come out. We need more programs like that throughout the system. I know Hartford has a great one that Lebanon has a piece of, but we really haven't started to talk about how to connect some of that.
PG: I completely agree. That's a big missing piece. I've got two LPN openings I need to fill today and there are jobs that are just waiting there.
Allan Reetz, director of public relations, Hanover Co-op Food Stores
AR: It's a really key question for us: Where are the employees coming from? Certainly in our industry, we really strive to pay a competitive wage and that is an average starting wage of close to $13 and also full-time benefits, and that makes our job even tougher in a micro-thin margin industry called grocery.
So to pay health care, dental, 401(k), life insurance, disability, tuition reimbursement for upwards of 80 percent of our staff that's a lot of commitment. So add that into the equation of where can somebody find a house?
We strive to pay fairly and help them grow in their career and scour the hillsides for folks who can actually have a career. You have these stepladders of people saying you know it's not just you're a cashier, but you can be a level one, two three level cashier, and that's not just an extra star on the name tag, that's to say, "Here's a new skill set, and now here's how we want to get you to the next position in meat or seafood or dairy."
PG: It's the same issue for us, but there are some differences. We've been here for so long, we can offer career opportunities so people start off in very entry-level jobs and spend 20 years with us. Sometimes, though, for very skilled jobs, they're very hard to recruit. The only positive development is if they have been here long enough, they suddenly don't want to leave. What they realize is there isn't a Target, but there is a 200-acre mountain biking opportunity 1o minutes from their work, which once you're in it, you can't imagine being anywhere else.
AR: I've had it said to me countless times, somebody says, "I can't believe there is a grocery store like this here; I've traveled all over the world" or "Whole Foods has nothing on you." I sometimes talk to Dartmouth students, I'll be at the Dartmouth freshman orientation and say, "Where are you from?" "I'm from L.A., I'm from New York, I'm from Atlanta," and I say, "We will surprise you with the range of foods that we have." Silly as it sounds, it's like all of a sudden someone says, "Maybe I can survive here."
BW: Going back to my warm fuzzy feeling about the Upper Valley kind of morphing into this one community, which I'd like to believe that it is, there are certain elephants in the living room that we still have to address, and that is transportation.
PG: I think there's a recipe for economic success, one part of the recipe is taking the time to attract and retain talent and can you grow. Another part of it is can you get people here, can we move around and let people see this place and those will usually change right as ownership happens? We have over 150 people who reside on our campus every day, and access to transportation is critical. Even if we are aging, we have to find ways for those people to be able to move. I sort of joke, which doesn't always come across, that driverless cars are going to help me when I age. So there'll be some things like that potentially in the future, but still, transportation is really a key part of it, and it's hard to find ways to bring everybody together to think about that.
BK: You make an excellent point. We need to deal with the realities that we have today, and how do we solve them best? The other piece to it is how to look forward and how do we take advantages of the strengths that we have. We do generate a lot of spinoff businesses. They have grown significantly and they can be an engine for growth for the area. It's one of the few areas, actually, but biotech, medical services, hospitals, and some other businesses that you see come out of Dartmouth College and we actually do have scale in comparison to other areas. So it's an opportunity to expand and to grow. I think we have to look for those opportunities while dealing with the realities of today.
NM: Health care and precision machines in this region is really above the bar.
PG: There's been some work on the jobs of the future, and in the early 1980s, the middle class household in America was headed by a male who worked in manufacturing. Today, it's largely headed by a female who works in healthcare. And so then the question is, what does that look like 20 or 30 years from now? It's really about the next generation and how you start to organize for that and get prepared for that future.
NM: I wonder how some of this merges because you've gone from goods to service and now we're moving from service to knowledge. When you talk about driverless cars, you're cutting back on certain knowledge and goods production to create some of those.
BW: I'd be interested to know from this group, in terms of looking towards the future, infrastructure in terms of internet, those types of capabilities need to continue to grow. Are we in a position to see that? How is that going to be dealt with? Because, being a bit of a rural area still, we need that interconnectivity to the outside world. Do we have that now or are we going to have it?
PG: In my town of Lyme, we have a very active Listserv community, so it's the old kind of pre-World Wide Web Internet. And if you want to get attention on the Listserv, ask, "How's my FairPoint service working today?" And the answer is a string of very creative comments.
What's interesting, of course, is on the other side of the river in Vermont, there was a very interesting homegrown experiment to really bring fiber to the home, so I think that's a place where there's a lot of opportunity for improvement.
Certain core areas have great service, but it doesn't take you far to get off of those. When I think about communities that are outside of the core hub, I think they're really poorly served, and their economic situation is not as strong.
TH: I live in an area where we do not have Comcast, so we use DSL, and having moved here fairly recently from southern Vermont I used to complain about my Comcast bill. I would dearly give Comcast as much as they wanted.
NM: Again, your producers, when you start taking on rural areas, that's where a lot of our farms are, despite the Department of Labor reports that refuse to put agricultural jobs on, like they're not real jobs. A lot of farms out there are running businesses, and they can't get online.
TH: A community cannot bond to put broadband in, it's actually against our state RSAs. It's something I know that came up to the Legislature last year. It was voted down and I don't see it on the LSRs for this year.
PG: I believe you can do it at the county level, but it hasn't translated into any service yet, so there's a real gap there.
BW: In terms of just a slight summary, I'm so optimistic about the Upper Valley. What other New England town has a world-class Ivy League school or higher education, world-class medical community, world-class industrial base, a great active community, activities in terms of recreation and sports and family and quality of life? Yes, we have a certain amount of challenges, and yes, not everybody wants to be here, but those who are here want to be here and want to contribute.
I see this kind of measured growth that will continue for the foreseeable future. Fifty years from now, the Upper Valley will probably still have this challenge about being in northern New England, but it still will have the quality of life that everybody wants to see. We're still going to have a very vibrant economy based on the college not leaving.
The point I'm making is that Dartmouth College is not going away, the medical center and some configurations are going to go through some gyrations, but it's going to stay. There is going to always be this private sector, so the Upper Valley is positioned in pretty good shape compared to anyplace else in the state of New Hampshire.
AR: I think that vision is important, and after we've all sort of retired, it's still going to be a great place. It still requires that daily regular care now. Commuter rail, high-speed rail, those are important things to consider and vision, but to also say that right now you've got some employee needs. What are the ways we can chip away, that we
don't just step back too far from that table of action and discussion over the small issues that feed into the larger issues?
I go back to a comment you made earlier, Bruce. You said you sort of have a governor on this whole engine; it allows us to move a little more slowly. But as long as we keep our eyes open and the discussions happening, and whether it's a cooperative school district or a cooperatively owned grocery store, or banks that have roots here and people who have long histories with what this region offers and requires, I think it is going to continue to be a dynamite place.
BK: I think you hit the nail on the head. Whether you're talking about businesses in Maine, New Hampshire, Vermont, there are a lot of communities that would be happy to be in a position we're in. The fact that we're just simply looking for how we move it along a little bit further, is a nice task to have.
BW: We don't want to seem like we're whining. We're very happy where we are. We're always looking ahead, but we're very blessed.