How to make a city recycle-101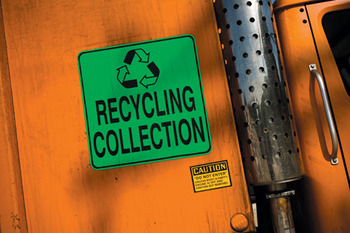 With the state's household recycling rate stuck at about 23 percent for the past five years, Don Maurer knows what's needed.
"Incentives," said Maurer, supervisor of the Solid Waste Technical Assistance Section for the state Department of Environmental Services.
"People like incentives, they don't like being told to do things. Saying 'You have to recycle' – it just doesn't work."
He ticked off various ways to get homeowners to recycle more, including:
n Avoiding personal expense.
"Pay to throw," in which people are charged for their nonrecycled waste, is the usual route. Right now, 45 communities in New Hampshire have the program, none in the Greater Nashua area. They charge an average of $1.50 per bag of trash.
n Lowering municipal expenses that raises taxes.
Maurer said a statewide estimate is that sending a ton of trash to a landfill or incinerator costs $75 while recycling a ton brings in $40 – although figures vary enormously, depending on the material being recycled.
Nashua handled 37,616 tons of trash in 2007 and recycled 13.7 percent of household trash, by Maurer's estimate.
If it could recycle half the household total, a difficult goal for a city, it would save almost $2 million a year, which would cover a third of the city's budget line item for waste handling.
n Getting rewards.
Some larger communities around the country are considering a program called "recycle bank," in which curbside recyclables are weighed and people are given credits that can be used to save money at businesses, "sort of like frequent flier mileage," Maurer siad. Nobody in the state has this recycle bank program.
n Not being badgered by your children.
"We love to get the kids involved," said Maurer.
Any incentive is more effective when recycling is easy – hence the push for "single-stream" efforts that bypass homeowners' need to separate material – and people understand the issue.
"We need to is educate people as to what is recyclable and what isn't," he said, pointing to paper as an example.
"Nationally, about 51 percent of available paper is recycled, in New Hampshire it's around 30 percent," he said.
That's partly because people don't realize that glossy material like newspaper inserts are OK to recycle, he said.
"Essentially, anything you can tear can be recycled," he said.
Community recyclying rates
Don Maurer of the state Department of Environmental Services says comparing recycling rates among communities is harder than it seems, for several reasons, including the fact that commercial waste is often handled privately and may or may not be included in data, and it's not always clear how to categorize some categories of trash, such as demolition debris. These are Maurer's estimates for municipal recycling rates in 2007:
Town rate*………total waste (tons)……recycle tons*…………recycle
Amherst…………………3,138……………………..113…………………..25%
Bedford………………….8,725…………………..1,331…………………..14%
Hollis……………………..2,637……………………..827…………………..24%
Hudson………………….8,554…………………..2,157…………………..21%
Litchfield……………….1,500……………………..591…………………..28%
Manchester…………43,323…………………..7,880…………………..24%
Merrimack…………….8,491…………………..2,041…………………..23%
Milford………………….3,014…………………..1,426…………………..33%
Nashua……………….37,616…………………..5,969…………………..14%
Pelham…………………2,893…………………..1,203…………………..29%
Wilton-R……………….1,721……………………..867…………………….0%
Windham……………..4,227…………………..1,467…………………..28%
STATE……………….472,053……………….123,156…………………..23%
*Does not include commercial waste, as far as can be determined.
Source: State Department of Environmental Services