How a 'junk' case landed in state Supreme Court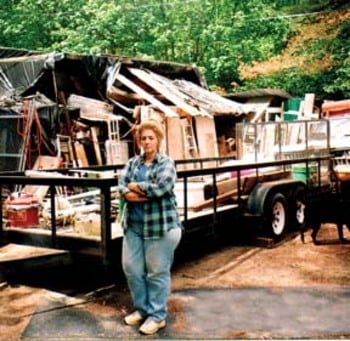 As Concord attorney Joshua Gordon describes it, Charles Teryek is trapped in a legal "Catch-22."
He has been in jail for nearly six months for "willful contempt" of Carroll County Superior Court orders to remove "junk" from his half-acre residence in Wolfeboro. On Jan. 14, Judge James D. O'Neill III ordered Teryek held in the county House of Corrections in Ossipee until 40 truckloads are removed. Gordon argues Teryek can't carry out the order while he's in jail.
"He can't do anything about this," Gordon said. "He can't get out of jail to do anything about it. The people who supposedly benefit from his going to jail obviously aren't benefiting either, (because) the land's not being cleaned up."
Gordon, appointed by the state Supreme Court to handle Teryek's appeal, said neither Teryek nor his wife Mary has the money to hire someone to haul away the material from the property and they can't afford a lawyer. Teryek's request for a court-appointed lawyer to defend him against a previous finding of contempt was denied in Superior Court.
"He's in jail indefinitely with no possibility of getting out ever, with no attorney, no due process," Gordon said. "It's like Guantanomo Bay."
The Teryek case has a long history that includes five previous findings of contempt and three previous periods of incarceration.
Lawyers for the plaintiffs in a years-long lawsuit over the property argue that jail has been the only thing that has spurred Teryek to partially clean up the site.
"The undisputed experience in this case is that while incarcerated, Mr. Teryek demonstrated the ability to direct friends, family members and/or agents to remove truckloads of junk from his property and comply with the court's orders," wrote attorney David Rayment in his brief against Teryek's appeal. "Then, as now, Mr. Teryek holds the keys to his jail in his pocket."
The Teryeks have lived at their home on Governor Wentworth Highway since they bought it in 1969. Charles, 64, was a long-haul driver for a national moving company until he retired due to health problems in 1990. In recent years, he has worked as an independent contractor emptying the town's trash barrels and hauling the trash to the waste transfer station. Mary Teryek has taken over that job while her husband is in jail.
A tax form on file at the Supreme Court shows Teryek's "Charlie's Disposal Company" received $37,327.50 in non-employee compensation from the town of Wolfeboro in 2004.
In an affidavit filed with Southern Carroll County District Court in 2001, Teryek said that in 1993 or '94 he began removing materials from the town dump "including, but not limited to building materials (dimensional lumber), shutters, windows, doors, etc., appliances, household furniture, scrap metal, etc."
In his hand-written petition to the Supreme Court, he said he "grew up in a poor family and learned to make us (sic) of items that others might see as trash."
But town officials told Teryek his property was being used as a junkyard in violation of state statute and the town's zoning ordinance. Efforts to enforce a cease-and-desist order led in 2000 to ruling by Judge Robert Varney in Southern Carroll County District Court, authorizing the town to take "enforced corrective action" at the site.
Under a contract with the town, Atlantic Waste Systems and its subcontractors removed more than 154 tons of "mixed materials" and a truckload of scrap metal from the property at a cost of more than $45,000. The town added the cleanup costs and attorney's fees to the Teryeks' tax bill and now hold a lien on the property for nearly $70,000.
Mary Teryek claims the items taken included a brand new snowblower, a rototiller, tools, truck tires and other usable items. The contractors also removed large quantities of soil, a stone wall, cordwood and a chain-link fence, she said.
"Like my husband said, they came in like Grant took Richmond. They came in and destroyed everything," she said.
Supreme argument
Three years later, Claire Donahue, representing Robie's RV Park, Brenda Fuller and James and Victoria Knight sued both the Teryeks and the town of Wolfeboro, claming the town had been negligent in enforcing its land-use ordinance. (The Knights later sold their home and moved out the area and withdrew from the suit.)
In granting their petition for injunctive relief, Superior Court Judge Tina Nadeau found that the Teryeks had added "illegal junk" to the property after the town-authorized cleanup and that the conditions of the lot created a "substantial and unreasonable interference with the use and enjoyment of the plaintiffs' properties." She ordered the defendants to "get rid of the offending junk" within three weeks.
More hearings and "status reviews" followed, as Charles Teryek was found at various times to be in violation of court orders to remove specified amounts of material from the site.
He was jailed for contempt in March, May and September of last year. In September, his request for a court-appointed attorney was denied by Judge O'Neill, who ruled there was no statutory authority to do that in "an equity matter dealing with 'civil' contempt."
"Why is this a problem for us?" Chief Justice John Broderick asked Gordon during the oral arguments June 22 at the Supreme Court. "We're not here to do good, we're here to uphold the law."
Gordon argued that an indigent defendant is entitled to an attorney paid for by the state even in non-criminal proceedings if he is an imminent danger of imprisonment. He cited Part I Article 15 of the New Hampshire Constitution, which reads in part: "Every person held to answer in any crime or offense punishable by deprivation of liberty shall have the right to counsel at the expense of the state if need is shown…"
Teryek is alleged to be running an illegal junkyard, a public wrong that constitutes an "offense" within the meaning of Article 15, Gordon said.
"If every person who is going to be found in contempt gets a lawyer, then when do we do it?" asked Justice Richard Galway.
"Does the judge have to say 'Gee, I'm thinking about incarceration, therefore I'd better appoint an attorney?'" Justice Linda Dalianis inquired.
"I think that's about right," Gordon replied.
Attorney Mark Derby, arguing for the plaintiffs, said the appeal did not include a transcript of the Jan. 14 hearing to show whether Teryek had in fact asked the Superior Court for an attorney at that time.
He noted that the defendant had a lawyer when he was first jailed for contempt in March 2004. Wolfeboro attorney John SBC Hanson withdrew from the case in May of that year, citing unspecified "communications issues" between himself and the Teryeks. "A lawyer didn't make a difference the first time," Derby argued. Appointing one now "would add another layer of delay" to the trial, he said.
"Then it comes down to, 'He remains in jail forever?'" Justice Dalianis asked. "What's the solution to this problem?" Derby said the solution was up to Teryek.
"I would suggest that what's happened in this case is that Mr. Teryek has folded his arms and said he's not going to do anything more."
Gordon insisted that as long as he remains behind bars, it will be impossible for Teryek to do any more.
"If the plaintiffs want the lot cleaned up, we have to get him out of jail," he said.