House speaker won't seek new term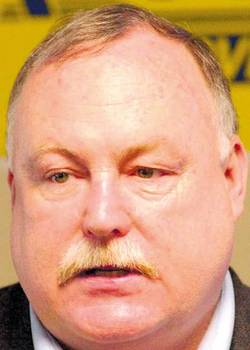 CONCORD – In a stunning move, House Speaker Gene Chandler, R-Bartlett, dropped his re-election bid Monday, hours after a committee of his peers charged that fund-raising to pay his personal expenses violated the state's gift law and ethics guidelines.
Chandler, 57, endorsed Deputy Speaker Michael Whalley, R-Alton, to replace him, but three other candidates already had entered the frey: former Speaker Douglas Scamman Jr., a Stratham Republican; House Democratic Leader-in-waiting Jim Craig of Manchester; and Kingston Republican Rep. Kenneth Weyler.
The move sets up a dramatic scramble for the gavel on Wednesday and raises the likelihood it could take several ballots before the full House of Representatives selects Chandler's replacement.
The Legislative Ethics Committee legislator in its history to face a formal hearing on charges stemming from his acceptance of cash gifts of $64,000 over the past four years from lobbyists, corporations, fellow lawmakers and friends.
The vote would be akin in a court of law to finding probable cause to bind a defendant over for trial, according to Acting Chairman Ned Gordon, R-Bristol.
During a telephone interview Monday night, Chandler said he couldn't put the entire House of Representatives through what could have been a long ordeal, starting with a Jan. 13 public hearing.
"If this were just about me, I'm thick-skinned. I could have weathered this for three months, six months, but it's about the House as an institution. I said I would put the members first, and this decision does that," he said.
THE LETTER
Attorney General Kelly Ayotte's office is conducting a parallel criminal probe, which included interviews of key state officials as late as last week.
"We are not in any position to comment on it at this time," said Assistant Attorney General Bud Fitch, who is heading up the investigation.
The speaker's job pays only $25 above the $100 annual salary all lawmakers get, by far the lowest in the nation.
The presiding officer does wield considerable power, from naming legislators to all policy committees to handing out perks such as choice parking places outside the Statehouse and seat assignments inside Representatives Hall.
The committee charged Chandler with violating the ethics guidelines by accepting gifts of more than $250 from lobbyists and firms he knew could be seeking legislation and for "using your public position or office" to obtain those gifts.
The third charge accused him of violating the gift law, a criminal misdemeanor, by his failure to file reports on the profits from Friends of Gene Chandler Committee events.
Chandler's lawyer, Ovide Lamontagne, said his client most strongly objected to the charge he abused the office to get money.
"There is no evidence or suggestion, not even made by the complainants, that Speaker Chandler knowingly used his public office to advance the interests of a party with matters pending before the Legislature in exchange for gifts or pecuniary benefits," Lamontagne said in a statement.
Chandler has said his failure to file was a simple mistake on his part.
Nashua Republican Sen. Jane O'Hearn made the motion to charge Chandler, seconded by Russ Hilliard, a Concord lawyer and the only member who had not served in the Legislature.
Gordon said Chandler's refusal to testify did not affect the committee, since it got enough information to bring charges after Jackson Republican Rep. Henry Mock explained the origin of an annual corn roast fund-raiser to pay Chandler's personal expenses.
"I believe it was the totality of the evidence," Gordon said. "There was not one single piece of evidence on which the fulcrum of the charges rested."
During last week's ethics hearing, it was revealed that Chandler maintained the checkbook for the account and that most of the money over the past two years paid for overnight stays, a monthly tab at a North Country market, car repairs, clothing purchases and cleaning bills.
Secretary of State Bill Gardner advised Mock in a July 1998 letter that the Friends committee did not have to report its activity each year, but Chandler did have to disclose his "net proceeds" on an annual form.
Mock said he thought the letter exempted Chandler as well because the speaker had served on the Friends committee.
Committee Chairman Shawn Jasper, R-Hudson, who had stepped down so he could publicly lobby for a replacement to Chandler, praised the panel's work.
"They did the only thing they could do based on the evidence," he said.
A half-dozen people came to the ethics panel meeting and waited through 90 minutes of private negotiations before it took its historic vote against a presiding officer in the Legislature.
Sue Mayer of Lee said state lawmakers should not be living on cash gifts from those who have something to gain.
"They work for us, not special interests, not lobbyists," said Mayer, a former high school teacher. "Sometimes it is easy to forget that."